VIA – SLO.COM
Jennifer Everett and her 6-year-old son, Oliver, pose with a surfboard that belonged to Everett's husband, Todd. The board was recently returned to her after being left at the beach after a memorial service for Todd Everett on March 30.
Joe Johnston
Read more here: http://www.sanluisobispo.com/2013/04/22/2480462/surfboard-lost-after-memorial.html#storylink=cpy
By Cynthia Lambert — [email protected]
Pismo Beach resident Jennifer Everett spent most of the day Monday "sitting on pins and needles," waiting to learn if a surfboard found by a South County couple was the same board that belonged to her late husband and had gone missing after his March 30 memorial service.
It was the board — a brown longboard with a yellowish gold trim that belonged to Todd Everett, who died Feb. 20, a little more than two years after he was diagnosed with stage four colon cancer.
"I was so relieved and crying," Jennifer Everett said Monday evening.
Todd Everett's board was left behind after a celebration was held in his memory on the beach in Pismo Beach in front of the Sandcastle Inn. The couple who found it had noticed the service and told Everett that the board was still sitting on the beach when they walked by about 10 p.m.
They took it home and stored it in their garage while they went out of town — and were unaware, in the meantime, of the massive effort underway on social media to find the board.
Jennifer Everett's sister, Julie Olson, posted a photo of her sister and the couple's 6-year-old son, Oliver, along with a drawing of the longboard on Facebook on April 9.
"The surfboard is priceless to us and especially to his son," Olson wrote. "We know someone had to have picked it up but we cannot locate it."
Her post went viral; to date, about 22,700 people have shared it. Jennifer Everett also posted an ad on Craigslist and hung fliers around the beach and Pismo Beach pier area.
The couple recently returned home and spotted the fliers, and then found the Craigslist post.
Jennifer Everett said she'd held out hope that the board would be returned.
"It makes no sense at all, but so many people expressed in person and online that they just knew it was going to come back," she said.
The outpouring of support "was completely helpful at a time when I could have been bummed out and sad," she added. "So many people being supportive and caring made me feel like life is OK."

Read more here: http://www.sanluisobispo.com/2013/04/22/2480462/surfboard-lost-after-memorial.html#storylink=cpy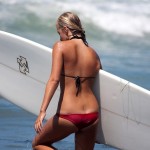 Become A Sponsor!
If you have a product or service that is a good fit for our surf community, we have opportunities for you to sponsor this blog!
Download our media kit now!