Ya this is called 'police state' fing bs…
VIA – KHON
APEC ocean restrictions will impact Waikiki, Ko Olina

Reported by: Andrew Pereira
Email: [email protected]
HONOLULU- Massive security plans for the Asia-Pacific Economic Cooperation summit were released Thursday by the U.S. Secret Service.
Five separate security zones will be in place in areas directly offshore of Oahu. Most of the zones will be in place for about 24 hours, however, restricted areas around the Ala Wai Small Boat Harbor and Honolulu International Airport will be up a bit longer.
The security zones with the greatest impact to residents and visitors appear to be the West Waikiki Zone, the Ala Wai Harbor Zone, and the Ko Olina Offshore Zone.
No boaters, swimmers or surfers will be allowed in the West Waikiki Zone from 11 p.m. Friday, November 11 until 11 p.m. Friday, November 12. The restricted area is drawn 1,500 yards directly offshore of the Hilton Hawaiian Village Lagoon and stretches until the Fort DeRussy Park boundary.
Kaisers, one of the most popular surf spots on the South Shore, will be off-limits.
"Kaisers is the main bowl people will miss for sure," said Steve Molnar, a surfer and store manager at Quiksilver Waikiki. "They'll just come down here and then Ala Moana will be a real zoo."
Other surfers say some people will undoubtedly try to get into the water if there's a late season south swell on November 12.
"They'll probably try to go some of them, but for the most part they should just heed the warning and just go somewhere else," said Mark Zuver, a surfer who lives aboard his sailboat at the Ala Wai Small Boat Harbor.
For Zuver, APEC may impact more than his surfing. The Ala Wai Harbor Zone includes seven docks at the harbor. Officials with the U.S. Coast Guard says mariners who live on their vessels will be allowed to remain onboard, but will be prevented from getting underway.
The Ala Wai zone also closes off most of the Ala Wai Canal to any vessel traffic, including paddling canoes.
"We are trying to reach out to paddling clubs to let them know of that closure," Jason Neubauer, a Coast Guard commander, told members of the Hawaii Ocean Safety Team Thursday during a presentation at the HCC Marine Education and Training Center.
Meanwhile, the Ko Olina Offshore Security Zone will be in place from 11 p.m. Saturday, November 12 until 11 p.m. Sunday, November 13. No vessel or personnel traffic will be allowed.
While ocean restrictions are sure to upset many, George Downing of Save Our Surf says surfers are ready to do their part in order to make APEC a success.
"Surfers recognize that holding APEC in Hawaii, by out state and the city, is sharing some aloha to our invited guests. Surfers hope that our aloha will contribute to our local and world economy."
The Coast Guard says anyone who attempts to breach the security zones will face a multi-layered defense of wave runners and boats operated by city, state and federal authorities. Such breaches can result in a misdemeanor and fines, depending on which jurisdiction decides to prosecute offenders.
THE OCEAN SECURITY ZONES FOR APEC ARE AS FOLLOWS:
Ala Wai Yacht Harbor and Canal Security Zone: The security zone will begin November 10, 12:00 p.m. and conclude on November 13, 11:00 p.m. The zone consists of the first two boat rows at Ala Wai Harbor (Front Row, Work Dock, Loading Dock, Docks G, F, south face of D and X, Row 400) and the Ala Wai Canal from the Ala Wai Harbor to the McCully Street Bridge. There will be no movement of vessel traffic in these areas. All other vessel traffic will be permitted to move in and out of the remaining unrestricted zone.
West Waikiki Zone: This security zone will begin November 11, at 11:00 p.m. and conclude November 12, 11:00 p.m. This zone encompasses the beach access areas behind the Hilton Hawaiian Village, Hale Koa Hotel and Fort DeRussy Park. The zone will extend 2,000 yards offshore (see map). The beach access is restricted to all personnel and vessels. No public access.
East Waikiki Zone: This security zone will begin November 11, at 11:00 p.m. and concludes November 12, 11:00 p.m. This zone encompasses the beach access areas East of Fort DeRussy Park and continues to the Sheraton Waikiki. The zone is closed for vessel traffic ONLY and will remain OPEN for general public.
For all the information go here:
http://www.khon2.com/content/news/editorschoice/story/APEC-ocean-restrictions-will-impact-Waikiki-Ko/-k0saZPL00-ngF2qGw5IGA.cspx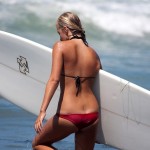 Become A Sponsor!
If you have a product or service that is a good fit for our surf community, we have opportunities for you to sponsor this blog!
Download our media kit now!