VIA – SANTA CRUZ PATCH
These Guys Surfed the Biggest Wave on Earth

Pro surfers Ken "Skin Dog" Collins and Greg Long talked about their experience surfing the "Ghost Wave" 100 miles off the California shore at Cortes Bank.
By Brad Kava
1:48am
To call Greg Long calm is an understatement.
He's got what Tom Wolfe once called "the Right Stuff," the ability, like a test pilot, to stay clear and cool in the midst of all hell breaking loose around him. Pushing the envelope, Wolfe called it. In Long's case, the envelope is the churning and boiling of waves as high as eight-story buildings.
He's won Mavericks and the Billabong XXL Global Big Wave contest and more awards for hitting big waves than one needs to count. He's not in it for the prizes. He's in it for the thrill of seeing nature at its most unrelenting, and mastering it.
At 15 he started hitting the biggest waves. He won "performer of the year" in 2005 and 2008, Biggest Paddle-in wave in 2008, and Biggest Wave of the Year in 2007 with a 65 footer caught down off the southern cape of Africa at a break called Dungeons.
So how did he feel when he tried surfing at Cortes Bank, with churning waves that almost sank an aircraft carrier and the USS Constitution?
"Terrified," says the surfer, now 27, using a word that comes up rarely for a guy who has already surfed the world's toughest waves.
Then, his eyes light up as he describes this mysterious surf spot, over a deluged island 100 miles west of San Diego, where all you can see is waves and no sign of land.
"It's miraculous," he added, with his most emotional look of the day. "You look out and all you see is waves and nothing else. No land, nothing."
He and Ken Collins paid a visit to Freeline Design Surf Shop Tuesday along with author Chris Dixon, who wrote a book about them and their rides at Cortes Bank called Ghost Wave: The Discovery of Cortes Bank and the Biggest Wave on Earth.
For all the photos, videos and full article go here:
http://santacruz.patch.com/articles/these-guys-surfed-the-biggest-wave-on-earth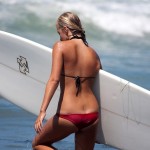 Become A Sponsor!
If you have a product or service that is a good fit for our surf community, we have opportunities for you to sponsor this blog!
Download our media kit now!