VIA – KHON2
Hundreds rescued during high surf warning
Reported by: Andrew Pereira
Email: [email protected]
Published: 8/30 5:44 pm
Updated: 8/30 5:49 pm
For wave riders a high surf warning is more like an invitation.
At China Walls in Hawaii Kai dozens of waver riders tested their limits.
"It's a dangerous wave out there and if you don't really know the spot then you definitely get into trouble," said Jordan Kaahaaina, Hawaii Kai surfer.
The most powerful swell of the summer also tested the mettle of fire fighters on this rescue boat in Maunalua Bay.
The fire department and city lifeguards worked in unison to prevent assists from becoming full blown rescues.
An HFD chopper gave rescuers a bird's eye view.
"They can spot the person in trouble and pin-point us, the jet ski, where to go," said Honolulu fire captain Todd Hugo.
By 3 p.m. lifeguards had assisted or rescued 315 people.
Some rescues went unreported.
"We rescued someone in the channel, Kainoa and myself, and couple of big sets breaking out by the number four buoy," said surfer Doug Silva.
For the surging summer swell seven additional lifeguards were called in to augment a normal staff of 23.
"Every other tower on our South Shore is manned with a second person," said Capt. Paul Merino of the Ocean Safety Division. "That allows us to have someone in the water and someone manning a tower."
"They're busy as heck but knock on wood so far things are going well," said Merino.
However the swell may have claimed a victim.
A man from New York on a scuba tour with Island Divers remains missing.
The man in his early 20's was diving a half mile out at a site known as Baby Barge off the Waialae-Kahala coast.
"We always want to hold that hope out; our hearts go out to the family and the stress that they're under right now," said Honolulu fire captain Terry Seelig.
Among non-Hawaii residents ocean drownings are by far the leading cause of injury-related deaths.
When you combine residents, the number of drownings is startling:
So far this year 18 people have drowned on Oahu.
For the full report go here:
http://www.khon2.com/news/local/story/Hundreds-rescued-during-high-surf-warning/kR6WlugdU0qctnoeLIkC0w.cspx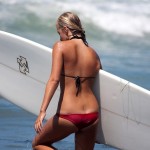 Become A Sponsor!
If you have a product or service that is a good fit for our surf community, we have opportunities for you to sponsor this blog!
Download our media kit now!