VIA – LA TIMES

Malibu waves twice normal size with swell still building
August 31, 2011 | 2:05 pm
L.A. NOW
Southern California
Lifeguards report big waves at Point Dume in Malibu
At Point Dume in Malibu, 6- to 8-foot waves crashed onto the sandy beach, spraying white water high into the air.
Lifeguards said the waves are about twice normal height, and the swell is expected to build throughout the day.
"The bigger the better," Kevin Koenig, a 25-year-old football coach from Thousand Oaks said before strapping fins to his feet and charging the waves to body surf with several buddies. "We knew a swell was coming so we wanted to get here before everyone else does."
More casual sunbathers were keeping their distance from the heavy surf, moving their beach blankets back from the shoreline to avoid the spray of crashing waves and generally staying out of the water.
"It's pretty big," said Kelly Jacobson, a lifeguard at Point Dume's Tower 5. "People see it and they say 'that's not for me.' They know their limits when they come face-to-face with 6- to 8-foot water."
George Romain was lazing on a beach blanket here on the advice of his dentist, who also happens to be a surfer and told him to be sure to see the powerful surf.
"The waves are breaking right on the beach," the 88-year-old retiree from Tarzana said. "That's why no one's in the water."
The National Weather Service has issued a warning over the next few days at Southern California beaches.
For the full report go here:
http://latimesblogs.latimes.com/lanow/2011/08/malibu-waves-are-twice-normal-size-with-swell-still-building.html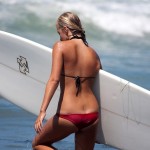 Become A Sponsor!
If you have a product or service that is a good fit for our surf community, we have opportunities for you to sponsor this blog!
Download our media kit now!