VIA – CARE2

Help Save World's Most Endangered Dolphins
One of the smallest, and rarest, marine mammals in the world, Hector's dolphins are found only in the shallow coastal waters off of New Zealand.
There are now fewer than 8,000 of the two subspecies of these dolphins, which are genetically distinct from each other: the South Island Hector's dolphins, who can be found off of New Zealand's South Island and the Maui's dolphin, who can be found off the west coast of the North Island where there are fewer than 100 left in existence.
Their populations have continued to decline over the past few decades, down from 29,000 in 1970. While a number of factors have played into their decline, the most damage has been caused by entanglement in commercial and recreational gillnets. Because females can take up to nine years to reach sexual maturity and only produce one calf every few years, increasing their populations is going to take time and serious conservation efforts.
Some actions have been taken by the government including the establishment of the Banks Peninsula Marine Mammal Sanctuary in 1988, controlling tourism activities and restricting areas for gillnetting and trawling, but it hasn't been enough.
The sanctuary is believed to have helped populations, but its "effectiveness has been compromised by the interests of sports and commercial fishermen and by the fact that the dolphins' offshore distribution extends beyond the protected area," according to the International Union for Conservation of Nature.
The protected area for Maui's dolphins along the North Island was closed to gillnetting in 2003, but it still occurs and trawling is only prohibited within one nautical mile offshore…
Read more: http://www.care2.com/causes/help-save-worlds-most-endangered-dolphins.html#ixzz1rmbQhlHs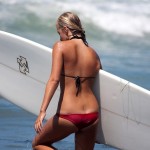 Become A Sponsor!
If you have a product or service that is a good fit for our surf community, we have opportunities for you to sponsor this blog!
Download our media kit now!