After working with many cities on many projects, money talks and loyalty walks…
VIA – SANTA MONICA PATCH
City's Top Surf Camp Pick Backs Out; Surf Academy Out, Too
San Diego-based Surf Diva says it was 'bullied' by the camp that's contracted with the city for 11 years—until now.
By Jenna Chandler
1:09 pm
It's a surf camp wipeout.
The company picked to offer surf lessons for the next year starting June 1 at Tower 28 at Santa Monica Beach has declined the offer, claiming to be bullied by the camp that's won city contracts there for the past decade.
For the first time in 11 years, Surf Academy—founded in 2000 by U.S. Surfing Champion Mary Setterholm—hasn't been offered a contract to provide swim lessons at Tower 28. Instead, the city picked San Diego-based Surf Diva.
Each year, the city picks one surf camp to offer lessons at Tower 28. Under the contract, the city provides on-site staffing, handles registration and markets the camps. In exchange, the the camp hands over to the city 20 percent—about $30,000—of of its revenues.
Though it was the city's first pick for the next season, Surf Diva doesn't want to sign on. It says it felt unwelcomed in Santa Monica after Surf Academy tried to win back the city contract it has clinched for so long.
"We are facing rumors from within the surf industry that we are bullying our way in and putting our peers/surf schools out of business," wrote Izzy Tihanyi, the CEO and owner of Surf Diva, Inc., in an email to the city March 2. "We have already been placed in a defensive position before even starting. This is not how we envisioned entering the community."
Beloved by kids and parents, Surf Academy called on its clients to put pressure the city's Community Services Department to reconsider the move. "The only reason given to Surf Academy Collective for this was, 'the other group made a better offer and presentation,'" Surf Academy wrote in calling for signatures in an online petition that ultimately garnered 300 signatures.
"I have been in Surf Academy for 3 years. I love surfing every summer at surf camp. It would not be the same summer without surf Academy!!!!" user Sophia 0'neill wrote.
But the Santa Monica City Council officially ended the relationship Tuesday night, in spite of the pleas to do otherwise, citing "ongoing federal tax issues" with Surf Academy.
With Surf Diva out of the picture, the city is opting to not contract with any surf camps this year…
For the full article go here:
http://santamonica.patch.com/articles/santa-monica-s-surf-camp-pick-backs-out-surf-academy-out-too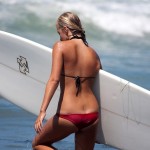 Become A Sponsor!
If you have a product or service that is a good fit for our surf community, we have opportunities for you to sponsor this blog!
Download our media kit now!