VIA – NBC LOS ANGELES

U.S. Open of Surfing Arrives to Huntington Beach
High Surf Could Bring Dollars to Huntington Beach
500,000 spectators are expected to descend upon Huntington Beach this weekend for the U.S. Open of Surfing event. The city hopes they spend some of their hard earned dollars.
By Vikki Vargas and Julie Brayton
| Friday, Jul 29, 2011 | Updated 8:06 PM PDT
Surf's up in Huntington Beach this weekend at the U.S. Open of Surfing.
Yet there is more to the event than riding waves and crowning champions.
The estimated 500,000 spectators are expected to spend close to $20 million during the nine days of the event, according to one economic study.
"This is the actions sports industry's superbowl of sorts, and with that comes the entire industry, and that industry is worldwide," said James Leitz, Senior Vice President of IMG, the company who owns the event…

View more videos at: http://www.nbclosangeles.com.
The competition kicks off Saturday, followed by concerts and fashion shows.
All 157 rooms at the Shorebreak Hotel, popular with comeptitors, are booked for the week.
The 20 something crowd will open their wallets by sleeping, shopping and eating in surf city, said Marco Perry, the hotel's manager.
For the full story go here:
http://www.nbclosangeles.com/news/local/High-Surf-Could-Bring-Dollars-to-Huntington-Beach-126435538.html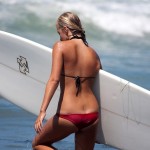 Become A Sponsor!
If you have a product or service that is a good fit for our surf community, we have opportunities for you to sponsor this blog!
Download our media kit now!