VIA – LOS ANGELES TIMES


High surf to peak today in Southern California [Updated]
September 1, 2011 | 12:22 pm
The unusually high surf that has been pounding the Southern California coast will peak Thursday, forecasters said, prompting warnings of possible coastal flooding and treacherous swimming conditions at the beach.
The National Weather Service has issued a high-surf advisory through 5 p.m. Friday, warning of up to 11-foot waves on south- and southwest-facing beaches.
[Updated at 12:40 p.m., Sept. 1: Newport Beach officials said waves there reached 10 to 13 feet at the beaches and 20 feet at the Wedge. Flooding had subsided from the streets, but water breached at least one parking lot along the Balboa Peninsula, officials said.]
The surf is expected to generate strong and dangerous rip currents. Flooding is expected at some coastal areas of Orange County when high tide hits about noon Thursday.
In Laguna Beach, lifeguards closed the parking lot at Aliso Beach on Wednesday afternoon after a high tide brought heavy deposits of sand and debris ashore, an Orange County parks spokeswoman said. Capistrano Beach had its parking lot closed Thursday after the waves washed up sand and debris and damaged a wooden boardwalk.
Authorities are looking for a swimmer missing in the water off Seal Beach. The U.S. Coast Guard on Thursday morning resumed its search for Jowayne Binford, 26, of Long Beach, who was last seen about 6 p.m. Wednesday about 200 yards offshore.
[Updated at 1:43 p.m., Sept. 1: The Coast Guard called off the search Thursday afternoon after failing to find the swimmer.]
Lifeguards warned beachgoers to avoid the heavy surf, or at the very least use caution.
"You should have very good, strong swimming abilities and fins if you're going to even think about going in the water at this point," said Section Chief Garth Canning of the Los Angeles County Fire Department's lifeguard division. "Most of the surf that we're seeing up and down the coast is beyond most peoples' ability."
Swimmers should talk to lifeguards before entering the water to make sure it is safe, Canning said, because even 5- to 6-foot waves can have a face that is up to 10 feet high. If you get stuck in a rip current, swim to the side to avoid being swept out to sea.
For the full surf report in Los Angeles go here:
http://latimesblogs.latimes.com/lanow/2011/09/high-surf-to-peak-today-in-southern-california-1.html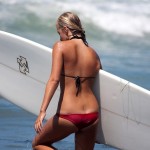 Become A Sponsor!
If you have a product or service that is a good fit for our surf community, we have opportunities for you to sponsor this blog!
Download our media kit now!