VIA – SAN DIEGO 6


Another Shark Sighting is Reported, This Time Near Children's Pool
Reported by: San Diego 6 News Team
Email: [email protected]
Last Update: 9:17 am
LA JOLLA – Boogie boarders spotted what seems to be a Great White shark Wednesday afternoon near the Children's Pool area in La Jolla, prompting officials to close off the area.
One local expert says this shark was big enough to do some damage, he thinks the harbor seals near the Children's Pool may have attracted the shark to shore, and have surfers now keeping an eye out for fins.
There's something lurking in the waters of La Jolla, and it could be the 'Big One"
White death, man eater, Jaws, call it what you will, but just south of La Jolla's Children's Pool Wednesday a potential great white shark was spotted.
"That's pretty freaky cause that's one of my fears," a mother said Wednesday to San Diego 6 News.
It was around two Wednesday afternoon that lifeguards say four boogie boarders spotted a 12 inch dorsal fin poking out of the water.
What does a 12 inch dorsal fin mean to you?, we asked shark expert Doctor Jeffrey B. Graham, and he responded " well it means a shark at least, 10 feet long".
According to Graham, late summer is feeding or breeding season for sharks so sightings are normal. In fact, this is the third shark spotted on San Diego's beaches in less than a week.
Graham says the harbor seals lounging near the Children's Pool likely lured this shark to shore. "Their presence is potentially a menace, attracting great whites that could come in there and do some damage to humans swimming," adds Graham.
Lifeguards are hoping this shark sighting will be like the one's last week, just a blip on a beautiful summer week in La Jolla. To protect the public, lifeguards closed a two mile stretch of the beach, but up the coast even a great white won't keep die hard surfers beach bound.
But in case of another shark sighting, avid surfer Diane Pearson has an exit plan, "I would get out so fast, I would be walking on water, I would be running on water," she says.
For the full shark report go here:
http://www.sandiego6.com/news/local/story/Another-Shark-Sighting-is-Reported-This-Time-Near/AsDCdDd84Eu1j345Vz-HVA.cspx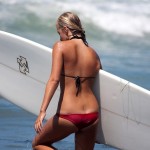 Become A Sponsor!
If you have a product or service that is a good fit for our surf community, we have opportunities for you to sponsor this blog!
Download our media kit now!