VIA – MERCURY NEWS SAN JOSE
Photo – A Capitola lifeguard helps out a white water-swept bodyboarder who wants to get back out with his buddies near the Capitola jetty Wednesday afternoon as a new south swell filled in along the Central Coast. (Dan Coyro/Sentinel)
Holiday beachgoers warned of big waves in Santa Cruz during Labor Day weekend
By Stephen Baxter
Posted: 08/31/2011 06:50:04 PM PDT
Updated: 08/31/2011 08:35:48 PM PDT
SANTA CRUZ — The largest south swell of the summer is expected to mesh with temperatures in the 70s and throngs of visitors during Labor Day weekend.
Lifeguards throughout the county expect large waves with long lulls between them — and they warned casual beachgoers to take heed and swim near a lifeguard.
"The way these long-period swells come in, it will lure people into thinking it's calm. They'll get in the water and all of a sudden a huge set comes in," said Chip Bockman, State Parks lifeguard supervisor for the Santa Cruz region.
After a set of large waves, water recedes and often creates strong rip currents that can carry people into deeper water where they might panic, Bockman said.
"We're reminding beachgoers to check in with a lifeguard and swim in an area with a lifeguard." Bockman said.
The south-southwest swell started building Wednesday and is expected to peak Friday and Saturday with 6- to 10-foot surf at 18-second intervals, according to Surfline.com. The swell is expected to drop to 4- to 6-foot surf on Sunday with smaller waves on Monday.
South-facing beaches like Main Beach are expected to have stronger-than-normal rip currents combined with high tides in the afternoons.
The large surf comes after about three weeks of tiny waves with clear water, which has made it easier to see marine life like dolphins, fish and even a 45-foot humpback whale off Seacliff State Beach and the mile buoy off the Santa Cruz harbor.
The whale, who local whale-watching captains including Sanctuary Cruises Capt. Michael Sack named "Stinky," has been seen breaching off Steamer Lane in recent weeks.
Gary Griggs, director of marine sciences at UC Santa Cruz, said Wednesday the swell likely would not chase marine life from near the shore — but it would make it more difficult for people to see.
"When it's rough you can't really see anything," Griggs said.
"Just because we have a swell coming, the fish certainly aren't going to go away," Griggs said. "The animals are pretty much used to weather conditions."
Stinky the whale apparently had been following a food supply of anchovies and other small fish. Sack and Ken Stagnaro of Santa Cruz Whale Watching, who also has had several sightings of Stinky, said it's unusual for a humpback whale to be in 35 feet of water.
Sack said he did not know if there was a correlation between the calm ocean and the whale's proximity to shore — although Stinky might be sensitive to a rougher ocean and move offshore.
Sack said he did not see Stinky at his usual spot Tuesday or Wednesday near the mile buoy, about a mile off the harbor.
Lifeguards said the larger waves Wednesday apparently had an impact on humans as lifeguards already made a few rescues at Main Beach.
Four swimmers had to be rescued from the area between Steamer Lane and Its Beach around 6:30 Wednesday evening after they apparently got tired and got caught up in the rift, according to Santa Cruz Harbor patrol. Three lifeguards went out to rescue the swimmers, who ages weren't immediately available, and the swimmers were pulled onto a harbor police boat to take them back to shore. Harbor police said none of the swimmers required medical treatment.
Jason Hajduk, Santa Cruz Fire Department's marine safety captain, said he expected 5,000 to 10,000 people on Main Beach through the weekend, based on past holiday weekends.
"We want people to have a great time and we want people to come to the beach. But we want them to have a safe experience," Hajduk said.
Hajduk said there will be extra Santa Cruz Fire Department lifeguards during the holiday weekend and two rescue jet skis in the water. State lifeguards plan to launch their rescue boat from the Santa Cruz harbor and have it in the water all weekend, Bockman said.
Bockman said waves from the rapidly rising swell on Wednesday started to wash through lifeguard towers at Twin Lakes and Seabright state beaches. He said a crew planned to haul them away from the water Wednesday evening.
Because of state budget cuts, lifeguard towers at Natural Bridges State Beach and Rio del Mar are not expected to be staffed. However, a lifeguard will patrol in a pickup, Bockman said.
State lifeguards are expected to patrol from two towers at Seabright State Beach rather than three as it had in previous years.
Campgrounds at New Brighton and Manresa state beaches are expected to be full, Bockman said.
"With the sun coming out, it's kind of the last hurrah of summer," Bockman said.
Bathers who are not familiar with the beach are advised to talk to a lifeguard about conditions before they enter the water, lifeguards said. Swimmers caught in rip currents should stay calm and swim parallel to the beach to get out of the rip current, lifeguards said.
For the full Santa Cruz surf report go here:
http://www.mercurynews.com/breaking-news/ci_18799581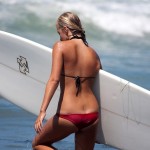 Become A Sponsor!
If you have a product or service that is a good fit for our surf community, we have opportunities for you to sponsor this blog!
Download our media kit now!