VIA – EITB


Life – 10 times world champion
Kelly Slater nominated for Prince of Asturias Sports Award
39-year-old US surfer Slater was recently named winner of the Billabong Pro surf competition in Teahupoo, Tahiti.
It was announced on Tuesday that US surfer Kelly Slater was among this year's nominees to receive the Prince of Asturias Award for Sports. The ten-times world champion has been nominated to the accolade, of which the winner will be announced on Friday 2nd September.
On Monday, Kelly Slater was named winner of the Billabong Pro Teahupoo in Tahiti after beating Australian Owen Wright in the final. His next challenge will be the Quiksilver Pro New York, taking place between 4th and 15th September. Just halfway through the current season, Slater is already ahead in the rankings.
For the full story go here:
http://www.eitb.com/en/news/life/detail/727043/kelly-slater-nominated-prince-asturias-sports-award/
For information on what the Prince of Asturias Sports Award award is, go here:
http://en.wikipedia.org/wiki/Prince_of_Asturias_Awards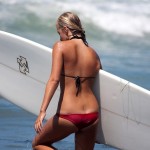 Become A Sponsor!
If you have a product or service that is a good fit for our surf community, we have opportunities for you to sponsor this blog!
Download our media kit now!