VIA – THE SUN


Photo: Sex bomb … the word bikini is named after nuclear test site in the Pacific

How did bikini get its bizarre name? It is atoll story
By MARTIN PHILLIPS
Published: Today
WANT to know what's really behind a bikini? Or why we say bluetooth?
New book Harvey Wallbangers And Tam O'Shanters reveals the people and stories that inspired everyday words and phrases.
MARTIN PHILLIPS picks some of the best:
Harvey Wallbanger: The cocktail of vodka, Galliano and orange juice may have been named after a surfer – Harvey – who downed several then began bashing into the walls of a bar in Los Angeles, US.
Hooker: The word derives from the Corlears Hook area of Manhattan island, US, where prostitutes worked.
Splitting the atom … the two-piece swimsuit hails from name of nuclear test site in Pacific


Bikini: The two-piece swimsuit takes its name from the Pacific atoll in the Marshall Islands which was the site of 23 nuclear weapons tests between 1946 and 1958. The bikini came out a few days after the first test – and was said to be "split like the atom".
Chauvinist: Now used to describe someone who is sexist, it originally meant a person who was excessively patriotic, after Nicolas Chauvin – an alleged foot soldier in the French army of Napoleon Bonaparte – who was famous for his blind loyalty to his country.


Height of glory … Mount Everest was named after Sir George Everest, the Surveyor General of India
Thespian: Thespis was an actor who lived in 6th-Century Greece and was the first documented "luvvie" to win an award for acting. It is not known whether he cried during his acceptance speech.
Mount Everest: In 1856, Andrew Waugh, the Surveyor General of India, fixed the height of what was known as Peak XV at 29,002ft. Waugh proposed that the mountain be named in honour of his predecessor in office, Sir George Everest.
America: The continent is named after Amerigo Vespucci, a 15th Century Italian merchant, who proved the continent was much larger than originally thought and was not, as Columbus believed, Asia.
Bayonet: The dagger at the end of a rifle takes its name from French town Bayonne, where the long knives were first made.
Duffle Coat: The duffle coat takes its name from Belgian town Duffel near Antwerp, where the cloth used to make them originates.
Bluetooth: 10th Century King Of Denmark, Harald Bluetooth, was responsible for …
For the full article go here:
http://www.thesun.co.uk/sol/homepage/features/3977713/Inspiration-behind-everyday-words.html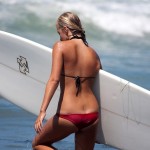 Become A Sponsor!
If you have a product or service that is a good fit for our surf community, we have opportunities for you to sponsor this blog!
Download our media kit now!