Whao, these ladies are really going for it! Impressive!…
VIA – NZ HERALD
How Hayley & Paige upstaged the men (+ photos)
By Michael Dickison
5:30 AM Monday Dec 5, 2011
Fight for Life competitors counted their bruises over lunch yesterday, where the champagne was as much an anesthetic as the celebration of a cause well served.
Surfer Paige Hareb had reeled from an early right hook on Saturday night as her opponent, Hayley Holt, came out swinging hard.
"I was surprised how hard she could punch – I actually felt quite dizzy in the first round," Hareb recalled. "But that pretty much fired me up… I guess we were both brutal, just going at it. It was a bit different to the guys. They're a little bit more patient."
Hareb roared back for two rounds to earn plaudits from the crowd – she and her rival received the night's biggest ovation – and from the other boxers at lunch yesterday.
"She's one impressive woman – just how strong and tough she was," said ex-Warrior Monty Betham.
"I've seen Hayley at some trainings, and Paige was very impressive. They were legends. Girls always get fired up and they do things their own way."
The female bout between Hareb and Holt, a reporter on The Crowd Goes Wild, the Sky Sports news show, was a first for Fight for Life, which promotes the awareness of prostate cancer.
Other match-ups on the night included the headline fight between Betham and Commonwealth cruiserweight champion Shane Cameron, which Cameron won on points, and one between former Vodafone Warrior Awen Guttenbeil and former All Black Carlos Spencer.
Spencer said he was still waiting for the pain to kick in. "I thought I would be a lot sorer – but the alcohol is still kicking. I'll probably be feeling it tomorrow," he said.
Organiser Dean Lonergan said the event had been a success for the Prostate Cancer Foundation, while some of the rugby players showed they could throw decent punches – unlike some other pretenders.
"Liam Messam showed he's got some boxing skills – Sonny Bill Williams would get beat up," Lonergan said. "I'd like to see them box. But Sonny Bill's manager is very hard to deal with, so I don't think they would be keen. If they did – Liam's a better boxer than Sonny Bill."
The final tally was still coming in, but the event looked to have raised more than $100,000, Lonergan said. The main focus was pushing the message for men to get checked up.
It was the two women, however, who proved to be the "superstars" of the night, as Hareb and Holt received a standing ovation after each bruising round.
Lonergan said the fixture had been arranged at the request of Hareb.
"Paige's manager just rang me up out of the blue about six weeks back and said, 'I represent Paige Hareb. She would really like to fight Fight for Life and she would like to fight Hayley Holt.'
"So I rang up Hayley and said, 'This surfer girl wants to have a fight with you. Any idea why?"'
Holt figured she had cut off Hareb while surfing in Raglan, but Hareb said there was no grudge.
"I think Hayley and Dean like to play that up for the media, but I don't actually remember that.
"My manager picked her out, thought it might be someone I could box."
Still, Hareb seemed hungry for more, saying she would keep up the boxing training after losing in a unanimous decision.
"We've had a month of training, compared to Hayley training for three months."
Hareb's boxing coach, Jacob Rapira, said the plan had been for the lighter Hareb to be as small a target as she could be until Holt dropped her hands.
But the fight became a fierce trading of blows as soon as it began.
In a separate…
For the full story go here:
http://www.nzherald.co.nz/sport/news/article.cfm?c_id=4&objectid=10770901
For the prefight story go here:
http://surftweeters.com/the-battle-of-the-blondes-pro-surfer-girl-paige-hareb-fights-snowboarder-hayley-holt-paigehareb/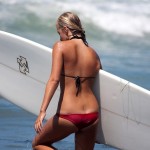 Become A Sponsor!
If you have a product or service that is a good fit for our surf community, we have opportunities for you to sponsor this blog!
Download our media kit now!