VIA – OC REGISTER


Hundreds show for "Russell" paddle out

Published: Sept. 17, 2011 Updated: 12:21 p.m.
By LAYLAN CONNELLY / THE ORANGE COUNTY REGISTER
When the word "brotherhood" was mentioned on the sands of Newport Beach on Saturday morning, friends of Robert "Russell" Brown hooted and whistled, making an "X" with their forearms.
It was a word — and a symbol years ago — associated with the longtime Newport Beach surfboard maker, signifying a kinship he shared with many surfers through the decades.
Hundreds of fellow surfers, friends and family showed up under overcast skies Saturday to remember Russell — as most referred to him — a surfboard maker known not only for his craftsmanship of boards, but his rough exterior but kind heart.
See photos from the touching paddle-out memorial here or below:
Russell died Aug. 21 at age 63.
"Everyone says how Russ was so crusty, but he was the sweetest man in the whole world. I lived with him for 30 years, and he never got mad at me," said his wife, Cynthia. "I'm going to miss him so much. Thank you for all the love, all the friendship, and all the support. He was my soulmate."
The paddle-out memorial was a reunion of sorts, bringing long-time friends together to reminisce about the good-old days. Russell boards of all shapes and sizes were on display, showing his five decades of work. A memorial reading "Aloha Russ" was set out for people to sign.
Russel was a shaper who never changed with the times, proudly keeping his surf shop core with hundreds of boards lining his shop. He was one of the first to hit the scene in Newport, and his name is synonymous with this part of the coast. If you rode a Russell, those next to you in the line up immediately knew you hailed from Newport.
Russell was versatile and innovative in his surfboard making, a pioneer who paved the way for many. Surfers young and old own Russell boards, a near right-of-passage for any Newport surfer.
Russell grew up in Westchester, and his family would travel south to Newport Beach to vacation. In the South Bay, he was building boards and hanging with the likes of shaper Dale Velzy. He was a teenager when his family moved to Newport, and Russell continued his board making. By 1967, he had a surf shop, and by the '70s, a Russell Surfboard was the board to have.
Many who spoke to the crowd Saturday shared touching and funny stories from the past, saying a modest Russell wouldn't understand why everyone was making a big deal of his life.
Hundreds of surfers took to the water, and held hands while reaching them to the sky during the paddle-out ceremony. They splashed the water to the sky, and formed a wide circle on the north side of the pier. As the ceremony wrapped up, many took on waves as they came back in to shore.
For the full story and photos go here:
http://www.ocregister.com/articles/word-317638-russell-forearms.html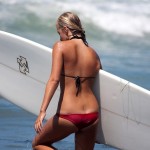 Become A Sponsor!
If you have a product or service that is a good fit for our surf community, we have opportunities for you to sponsor this blog!
Download our media kit now!