The best seafood gumbo recipe EVER…enjoy!
VIA – GOODTASTE.TV


Gaido's Gumbo
Gaido's Gumbo
by Tanji on September 11, 2011 a
I can remember going to Gaido's as a kid. The incredible Gaido's tradition continues as this year marks the 100th year that Gaido's Seafood Restaurant has been setting the standard for wonderful seafood. And what a treat this is! Gaido's famous gumbo recipe is extremely hard to come by – and positively delicious! You can incorporate either shrimp or chicken. According to Casey Gaido, the secret to outstanding roux is to use clarified butter and not overcook your shrimp. Enjoy!
Method:
Heat the butter with the flour in a large stockpot over medium heat. Cook until the roux is the color of a dark penny, stirring constantly.
Sweat the onions in a large saucepan over medium-low heat to release their liquid. Cook until the liquid evaporates and the onions are caramelized.
Add the peppers and celery. Cook for 5 minutes. Add the roux and cook for 5 minutes longer.
Add the okra and 10 cups of the water. Bring to a simmer and cook until the okra falls apart.
Add the tomato paste, pepper, hot sauce, Worcestershire sauce and chicken base. Bring to a boil and slowly add the filé. Cook for 30 minutes.
Simmer the crab boil in the remaining 5 cups water for 5 minutes, discard the bag.
Add the 5 cups of crab boil water to the gumbo.
Add 2 ounces shrimp or chicken and 2 ounces rice to each serving.
Ingredients
Makes 10 to 12 (8-ounce) servings
8 tablespoons butter
1 cup all-purpose flour
1 large yellow onion, finely chopped
2 bell peppers, finely chopped
4 stalks celery
2.5 cups chopped okra
15 cups water
1 tablespoon tomato paste
2 teaspoons pepper
1 teaspoon hot pepper sauce
2 teaspoons Worcestershire sauce
3.5 ounces chicken base
1 tablespoon gumbo filé
1 (3-ounce) bag crab boil
1 tablespoon salt
20 to 24 ounces boiled shrimp or shredded cooked chicken
2.5 to 3 cups hot cooked rice
Originally posted here:
http://goodtaste.tv/recipe/gaidos-gumbo/
Gaido's:
http://www.gaidos.com/home.html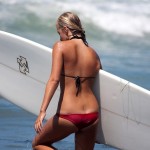 Become A Sponsor!
If you have a product or service that is a good fit for our surf community, we have opportunities for you to sponsor this blog!
Download our media kit now!