Poor girl and mom, they look scared sh*less…
VIA – MY FOX
12-Year-Old Surfer Rescued Off Of Queens: MyFoxPHOENIX.com
12-Year-Old Surfer Rescued Off Of Queens

Updated: Saturday, 27 Aug 2011, 3:31 PM MST
Published : Saturday, 27 Aug 2011, 1:47 PM MST
MYFOXNY.COM STAFF REPORT
MYFOXNY.COM – It was a dramatic rescue in the rough waters off of Queens when a mother allowed her young daughter to attempt to surf in the rough waters ahead of Hurricane Irene.
The 12-year-old girl had attempted to go surfing in the churning waters in Far Rockaway but quickly got into trouble.
Cameron Murphy, from the Broad Channel section of the borough got caught in a rip current.
Murphy's mother, who was watching along the beach, frantically screamed for help. A friend of the family jumped into the rough waters and swam out to Murphy. He was able to get her out of danger and onto the beach. Wearing shorts with a belt, the man was even able to grab the girl's surf board.
"I thought I was going to hit the rocks," Murphy said when she got onto shore.
The fact that the girl was even in the water angered many Fox 5 viewers. Dozens sounded off on the station's Facebook page . One person even wrote to the station saying the girl's mother should be charged with child abuse for allowing her daughter into the water.
The city issued a mandatory evacuation for the Rockaways that went into effect at 5 p.m.
For the full story go here:
http://www.myfoxphoenix.com/dpps/news/national/queens-girl-saved-from-dangerous-riptide-20110827-gjw_14749985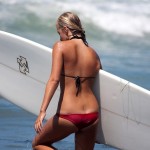 Become A Sponsor!
If you have a product or service that is a good fit for our surf community, we have opportunities for you to sponsor this blog!
Download our media kit now!