VIA – ORLANDO SENTINEL
Hurricane Irene's first Florida death? Surfer killed off Volusia coast
A 55-year-old surfer was killed off the Volusia County coast on Saturday, Beach Patrol said.
By Jeff Weiner, Orlando Sentinel
5:04 p.m. EDT, August 27, 2011
Though the storm is now well north of the Sunshine State, Hurricane Irene may have claimed its first and only Florida life on Saturday, when officials said a surfer died off the Volusia County coast.
A 55-year-old man taking advantage of near-ideal surf conditions left in the storm's wake was fatally injured off the New Smyrna Beach coast, said Capt. Tammy Marris of the Volusia County Beach Patrol.
Witnesses said the man's wounding happened in an instant just after 11 a.m. "One second they saw him surfing," Marris said, "the next second, they saw him face down."
Beach Patrol officers said they arrived to find the man unresponsive and without vital signs. He was taken to nearby Bert Fish Medical Center and pronounced dead just after noon, Marris said.
Officers said the man had suffered a large cut to his head, likely from hitting the sea floor. His name has not yet been released, as officials work to contact the man's family.
Though Irene was battering eastern North Carolina when the man was killed off Volusia's coast, Marris said it was clear that the surf on Saturday was a remnant of the powerful hurricane.
"From a surfer's point of view, it was a perfect surfing day," Marris said.
For the full story go here:
http://www.orlandosentinel.com/news/local/volusia/os-surfer-killed-hurricane-irene-20110827,0,1279694.story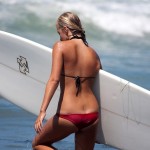 Become A Sponsor!
If you have a product or service that is a good fit for our surf community, we have opportunities for you to sponsor this blog!
Download our media kit now!