VIA – FLORIDA TODAY
Storm an economic boost for surfing entrepreneurs
Surfers flock to area on word Irene may bring 6- to 12-foot swells
Aug 25, 2011
At Da Kine Diego's Insane Burritos, about 50 yards west of the grayish and green waters of the Atlantic Ocean, manager Cody Price was relieved to learn the worst of Hurricane Irene would skirt Florida.
But the news for Da Kine Diego's on State Road A1A might even be better. The storm could blow Brevard County a kiss — a big, sloppy green one.

Photo: Scott Van Vondren looks out a service window at lunchtime Wednesday at Da Kine Diego's Insane Burritos in Satellite Beach. The restaurant, a popular spot for surfers, is expecting a busy weekend from Hurricane Irene. / Malcolm Denemark, FLORIDA TODAY
Surfers from all across the South are starting to flock to Brevard because the storm that's expected to pummel northern parts of the East Coast could create 6- to 12-foot swells off Space Coast beaches. And that should create an economic splash for the dozens of businesses frequented by surfers.
"When the surf is up like this, we're going to get slammed with customers," Price said Wednesday morning, noting the waves across the street from Da Kine Diego's were growing bigger. "As long as the wind isn't too bad, we should do pretty well."
Up and down Brevard's coastline, many small businesses,
including restaurants, surf shops and hotels, anticipate a nice revenue bump because of Irene's waves.
At MTB Surf Emporium in Indialantic, employees already are stocking up surfboard leashes. And Balsa Bill Surf Shop in Satellite Beach is seeing more sales of $1.50 bars of Sticky Bumps surf wax.
Lacy "Buddha" Max of Melbourne Beach, who collects weather and surf data for all of Brevard's beaches for his website, surfguru.com, said surfers and their wallets are arriving in Brevard.
"They are coming from everywhere — the Panhandle, Miami, Texas, Alabama," Max said. "They're going to spend a lot of money. They're going to fill up a lot of the mom-and-pop hotels. They're going to go to all the restaurants."
Various surf reports have Friday, and maybe Saturday, being prime for surfing, at least by Florida standards.
Local surfers maintain that 2- to 4-foot swells are considered good. A forecast of 6- to 8-foot waves is a blessing, they say.
George Jones, known as the "Surf Guy," who runs a surfing school as well as a surfboard repair shop in Melbourne, said high winds could force him to cancel a few stand-up paddle board eco-tours he had planned for the Indian River this weekend. However, he is keeping busy repairing boards for surfers eager to ride Irene's waves.
Jones said his repairs typically range from $35 to $200 each.
"One side of my business might take a hit, but the other part of it is picking up," Jones said.
Though no one has conducted formal studies, surfing is easily a multimillion-dollar industry in Brevard, with board and accessory stores, world-recognized competitions, surfing vacations and instructional schools. And as the birthplace of professional surfing icon Kelly Slater, the headquarters of the Ron Jon Surf Shop franchise and site of numerous surfing tournaments, Brevard is known as the capital of Florida surfing.
Now, at the height of hurricane season, various tropical storms churning up the ocean tends to improve surfing conditions, as well as receipts for numerous Brevard businesses.
"It's hard to say how good the waves may get with a storm that passes so close to the coast, but Hurricane Irene is certainly all the buzz on the surfing message boards," said Mitch Varnes, a Brevard native who has organized numerous surfing and athletic competitions, including the Sebastian Inlet Pro.
"I am sure we'll get lots of out-of-towners coming into our area from the Gulf Coast, Orlando and South Florida," Varnes said. "These surfers have to eat and put gas in their cars, and they'll be doing it here in our county."
Justin Looney, a 33-year-old information technology specialist for the Environmental Protection Agency, is one of them.
For the full article go here:
http://www.floridatoday.com/article/20110825/BUSINESS/108250308/Storm-an-economic-boost-surfing-entrepreneurs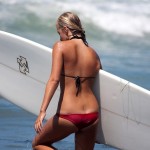 Become A Sponsor!
If you have a product or service that is a good fit for our surf community, we have opportunities for you to sponsor this blog!
Download our media kit now!