VIA – LA TIMES

Hurricane Irene: Highways clogged as tourists leave Outer Banks


August 25, 2011 | 2:53 pm
Cars loaded down with coolers and surfboards chugged away from North Carolina's Outer Banks on Thursday afternoon, ordered by state officials to leave the exposed barrier islands ahead of Hurricane Irene.
Tourists' vehicles clogged the main highway leading north to Virginia, and traffic on roads leading inland to central North Carolina grew heavier as the day wore on.
Mandatory evacuation orders went out for about 150,000 tourists and 34,000 residents of Dare County, which comprises most of the population of the Outer Banks. North Carolina Gov. Bev Perdue declared a state of emergency east of Interstate 95 in eastern North Carolina, and asked President Obama for federal assistance.

Photo: Hurricane Irene
( Erika Santelices , AFP/Getty Images / August 23, 2011 )
Raging waves batter against the shore at the seafront in Santo Domingo, Dominican Republic, after the passage of Hurricane Irene.
In all, local officials said, up to 200,000 people along the North Carolina coast were affected by evacuation orders. The latest projections by the National Hurricane Center showed Irene roaring across the Outer Banks somewhere between Morehead City and Cape Hatteras on Saturday afternoon.
In Nags Head, where thousands of visitors normally crowd the wide beaches, a handful of tourists braved rough surf to squeeze in one more day of vacation. Meanwhile, year-round residents vowed to dig in and ride out the storm.
Dan Vachon and eight friends had driven 17 hours from Toronto for a week at Nags Head. The owner of the beach house they rented forced them to cut short their vacation and move out Thursday, but they retreated to the beach for a few more hours of surfing.
"The waves are pretty good — better than yesterday," Travis Henry, one of the Canadians, shouted as he emerged from the pounding waves, clutching a dripping boogie board.
The group would have gladly stayed as late as Saturday if they had a place to stay, Vachon said, but they planned to drive home Thursday night, reluctantly.
"It's mandatory, so I guess we have to leave sooner or later," Vachon said.
A lifeguard who gave his name as George sat in a wooden tower, watching a handful of bathers as they were pummeled by the surf. He had been told to stay on duty until 6 p.m, and to return Saturday to keep an eye on stragglers, he said.
"No emergencies so far," George said, "but it's getting worse and worse out there."
Karen Sealock, who manages Sam and Omie's restaurant in Nags Head, planned to stay open as long as possible into the weekend. The wood and cedar shake structure has withstood hurricanes and nor'easters since it opened in 1937, she said.
For the full report and lots of photos go here:
http://latimesblogs.latimes.com/nationnow/2011/08/hurricane-irene-highways-clogged-as-tourists-leave-outer-banks.html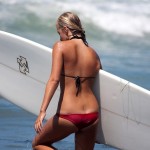 Become A Sponsor!
If you have a product or service that is a good fit for our surf community, we have opportunities for you to sponsor this blog!
Download our media kit now!