VIA – PILOT ONLINE

Irene ruins ECSC weekend events; surfing to go on
By Lee Tolliver
The Virginian-Pilot
© August 26, 2011
VIRGINIA BEACH
Thursday is the new Saturday at the East Coast Surfing Championships.
But Friday – today – won't be the new Sunday. Except for some surfing, there isn't going to be anything going on except cleanup efforts. Officials of the Vans Presents the Coastal Edge 49th annual ECSC started taking down tents, ramps and judges' scaffolding Thursday in anticipation of Hurricane Irene.
City officials granted permission for surfing competitions to continue as long as conditions permit.
The Vans Men's Pro and Vans Junior Pro events probably will take place this afternoon near a beach that will look nothing like the beehive of activity it featured Thursday. There is $105,000 combined at stake in those two events. Several divisions of amateur competitions also will run.
Surfers can expect growing swells to near 10 feet in the late afternoon.
"We're going to go from the biggest beach set-up we've ever had to finishing old school… with trucks on the beach and judges on the hotel balcony," said Paul West, who has organized surfing contests up and down the East Coast for more than three decades.
"Five years from now, nobody will remember who won what. But they'll remember the ECSC that had earthquakes, a fire in the swamp, and a huge hurricane."
Organizer George Alcaraz of Resort Management said that while the rest of the ECSC, which raises funds for Virginia Beach Jaycees community projects, is important, two things remained in focus.
"First of all, the safety of the people coming down to the beach," he said after announcing the beach shut-down. "This is unprecedented. And we're going to keep the tradition of the surfing going another year."
Alcaraz said he was relieved the decision was finally made to end beach activities that included a sponsors' vendor village, live bands, a variety of other competitions, skateboarding "vert" ramp demonstrations and thousands of beachgoers.
For the full story go here:
http://hamptonroads.com/2011/08/irene-ruins-ecsc-weekend-events-surfing-go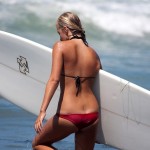 Become A Sponsor!
If you have a product or service that is a good fit for our surf community, we have opportunities for you to sponsor this blog!
Download our media kit now!