VIA – TELEGRAPH UK

Photo: A satellite image made and released by the National Oceanic and Atmospheric Administration (NOAA) on 25 August 2011 at 12:15 GMT shows Hurricane Irene over the Bahamas and south-east of Florida Photo: EPA / NOAA
Hurricane Irene: Top five hurricanes to hit the US
As Hurricane Irene threatens to become the biggest storm to hit America in seven years, the top five deadliest and the top five costliest hurricanes to strike the US:
9:00PM BST 25 Aug 2011
Top five deadliest (according to the National Hurricane Center)
1) The Great Galveston Hurricane in Texas, which struck the port city head on as a Category 4 storm in 1900. At least 12,000 people were killed.
2) The Okeechobee Hurricane of 1928, which struck Florida as a Category 5 monster, killing 3,000 people.
3) Katrina, perhaps the most documented storm ever, struck as a Category 3 in 2005, killing between 1,500 and 1,800 people.
4) Closely behind Katrina was the Cheniere Caminada Hurricane in Louisiana, which killed at least 1,400 people (though some estimates put the toll at closer to 2,000) as a Category 4 hurricane in October of 1893.
5) 1893 was a bad year: the Sea Islands Hurricane killed 1,000-2,000 people near Savannah, Georgia that year also.
Top five costliest (according to the National Hurricane Center)
1) Katrina, the Category 3 hurricane that struck in 2005, was responsible for at least $108billion in property damage and is by far the costliest hurricane to ever strike the US.
2) Andrew, which struck in Florida and Louisiana as a Category 5, the most intense ranking there is, in 1992. Damage from the storm cost nearly $46billion.
3) Ike, the most recent storm to strike the US, hitting Texas and Louisiana as a Category 2 in 2008. Ike cost some $28billion in damages.
4) Wilma, which struck Florida as a Category 3 in 2005, causing $20.5billion in damage.
5) Ivan, hitting in the Gulf of Mexico in 2004 as a Category 3 and causing $19.8billion in damage. Prior to striking the US, Ivan had roared over the Cayman Islands as a Category 5 storm, causing widespread destruction.
For the original story go here:
http://www.telegraph.co.uk/news/worldnews/northamerica/usa/8722957/Hurricane-Irene-Top-five-hurricanes-to-hit-the-US.html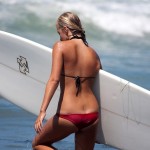 Become A Sponsor!
If you have a product or service that is a good fit for our surf community, we have opportunities for you to sponsor this blog!
Download our media kit now!