VIA – ABC NEWS 4


Water threatens homes; Surfers rescued
Posted: Aug 26, 2011 5:58 PM EDT Updated: Aug 26, 2011 9:19 PM EDT
SULLIVAN'S ISLAND, S.C. (WCIV) — At around 5:45 the photos started coming in… Storm water from Irene's work off the Carolina coast had begun to hit rock barriers.
What was once a backyard for many homes along the coast became ocean. The tide? It was still coming in… Meanwhile, rescue teams scrambled to find a missing surfers in the Breach Inlet area of Isle of Palms.
At Folly Beach law enforcement officers began writing drivers in the area tickets for driving in unsafe conditions as surf jumped dunes and rocks and poured across the road.
Also at Folly Beach, the Coast Guard and local rescue teams actively worked to recover a surfer near the fishing pier. Don Lundy with Charleston County EMS confirmed the surfer was found and transported to safety by someone on a jet ski.
Steps were blown off of beach walkways as crowds watched the big waves and cheered on surfers until dark.
The first reports of flooding in the City of Charleston came just before 8 p.m. with eight areas victim to the rapid change in water level. The list of flooded streets rapidly grew to nearly a dozen before the end of the hour.
For the full report and photos go here:
http://www.abcnews4.com/story/15342006/water-approaching-homes-on-sullivans-iop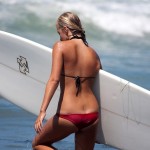 Become A Sponsor!
If you have a product or service that is a good fit for our surf community, we have opportunities for you to sponsor this blog!
Download our media kit now!