VIA – DAILY MAIL UK

Photo: Surf's up: People surf on Friday at Rockaway Beach in New York
Surf's up, Irene! Thrillseekers take advantage of 30ft waves caused by monster hurricane along East Coast
Governor Chris Christie warns New Jersey surfers, 'Get the hell off the beach'
By John Stevens
Last updated at 12:05 AM on 27th August 2011
As thousands of people start to flee their homes to escape the destructive path of Irene, thrillseeking hurricane surfers have been flocking to beaches to take advantage of the supersized waves.
Hurricane swells – the waves created outside the direct area of the hurricane – are reaching up to 30 feet along the East Coast.
But as beachgoers started to enjoy the surf, New Jersey governor Chris Christie warned: 'Get the hell off the beach.'

Photo: A surfer braves the wind and waves at The Washout at Folly Beach created by Hurricane Irene Friday Aug. 26, 2011 in Folly Beach, S.C
One of the biggest surfing competitions in the world, the 49th annual East Coast Surfing Championships, is underway on Virginia Beach, Virginia.
'The risk, the excitement factor… getting really good waves is addicting,' said hurricane surfer Shea Lopez who is competing.
For the full story and all the photos go here:
http://www.dailymail.co.uk/news/article-2030595/Hurricane-Irene-path-2011-East-Coast-thrillseekers-advantage-30ft-waves.html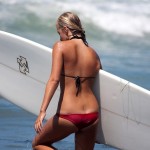 Become A Sponsor!
If you have a product or service that is a good fit for our surf community, we have opportunities for you to sponsor this blog!
Download our media kit now!