VIA – INDEPENDENT
Hurricane to pummel country
160kmh winds and heavy rain expected
By Alistair Grant and Allison Bray
Saturday September 10 2011
IRELAND will be pummelled by Hurricane Katia from tomorrow night as forecasters warned of winds up to 160kmh causing building damage, coastal flooding, uprooted trees and transport chaos.
Met Eireann was last night considering issuing a severe weather warning today after putting out an advisory yesterday.
"This is on the way and it is a significant storm," Met Eireann forecaster Gerry Murphy said last night.
"It is moving close to us and will generate very strong winds and high waves off the west coast."
Met Eireann has predicted winds of up to 160kmh, with the north seeing the worst winds and sea flooding in Donegal Bay — as well as Galway Bay and the Shannon estuary and other harbours — caused by 15-metre waves out in the Atlantic strengthening storm tides.
Britain's Met Office issued a rare extreme weather alert covering all of Ireland, warning of 130kmh winds on Monday causing sea flooding and "phenomenal" ocean conditions expected to cause danger to ships.
Experts said winds were expected to hit 130kmh in Dublin and 105kmh in Cork and warned of damage to house and building roofs and trees, adding that driving could be "very dangerous", especially in the west. Tornados are also a possibility.
Katia, a Category One hurricane with 145kmh winds, is causing seven-metre waves on the US coast before spinning across the Atlantic through the weekend.
The giant storm is carrying 145kmh winds across a 160km-wide centre and tropical storm force winds across a 800km-wide area, with experts expecting only a slight easing before it crashes into the north of Ireland tomorrow night.
Hurricanes can cause huge damage after crossing the Atlantic, as was seen in August 1986, when Hurricane Charley battered Ireland, causing the worst flooding in a century and smashing rainfall records.
Katia's wind gusts are well above the 117kmh speed required for a ranking of hurricane force, meaning it is expected to cause "excessive damage", with sea conditions considered "phenomenal".
The Met Office's alert for Ireland warned of widespread damage to buildings, uprooted trees and transport disruption, saying: "The remains of Hurricane Katia are expected to arrive on Monday, bringing very windy weather.
"The public should be aware of the risk of disruption to transport and of the possibility of damage to trees and structures.
"There remains uncertainty about its track, and warning areas may be extended or upgraded to amber, but the best estimate is that northern and western parts are most at risk from very strong winds."
For the full report on Hurricane Katia and the surf report for Ireland go here:
http://www.independent.ie/national-news/hurricane-to-pummel-country-2872652.html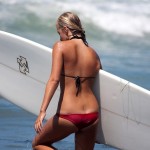 Become A Sponsor!
If you have a product or service that is a good fit for our surf community, we have opportunities for you to sponsor this blog!
Download our media kit now!