VIA – APPAREL NEWS
Surf and Skate Retailers Are Cautiously Optimistic

by Andrew Asch, Retail Editor September 09, 2011
Surf and skate retailers are optimistic post-recession, but the future is hazy.
Call it the moment after the wipeout.
Surf retailers have been seeing their sales rebound after several years of tough business during the economic downturn, according to a recent survey released by the Surf Industry Manufacturers Association.
The forecast is good for an industry that caught some tough breaks. Between 2009 and 2010, 1.7 percent of independent surf and skate shops shuttered across America, according to SIMA.
The industry lost some mid-tier retail chains, too, including Orange County, Calif., specialty chain Beach Bums, which shuttered its more than 11 doors in 2010, and action-sports-friendly retailer Metropark, which shuttered its nearly 70 locations earlier this year.
However, the summer was good for core shops. According to market-research firm AA Data Co.'s "ActionWatch Retail Panel" study, sales in July increased more than 14 percent compared with last year. The increase in sales supported an optimistic outlook, said Duke Edukas, co-owner of Surfside Sports in Costa Mesa, Calif., and the West Coast chairman of the Board Retailers Association trade group. But recent history and a stagnant macroeconomic outlook gave many retailers cause for concern.
"The industry is in a lot of flux, and it is a little scary," Edukas said.
On one end of the spectrum are established surf and skate specialty chains and brands, which are coming out of the recession with ambitious expansion plans. Irvine, Calif.–based Tilly's filed for an IPO in July, with $100 million requested in the IPO, partly to finance an expansion of its fleet of 126 stores. Tilly's intends to open 13 stores by the end of the year and 20 in 2012. Everett, Wash.–based Zumiez Inc. plans to open approximately 45 new stores by January 2012.
Quiksilver Inc. is scheduled to introduce a new retail concept, 585 Boardriders, in Los Angeles' Venice neighborhood this month. In July, the company opened a boutique for its Waterman label in Newport Beach, Calif., and it is getting ready to debut a host of new lines in 2012 under a division called Emerging Brands.
Growth strategies
For the full article go here:
http://www.apparelnews.net/news/retailing/110909-Surf-and-Skate-Retailers-are-Cautiously-Optimistic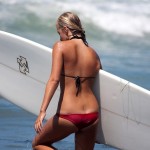 Become A Sponsor!
If you have a product or service that is a good fit for our surf community, we have opportunities for you to sponsor this blog!
Download our media kit now!