via – the walrus
Nova Scotia's free surfers search for dangerous waves — and keep them secret
• Photography by Scotty Sherin
Hurricane surfer Nick Manos checks out the waves in Nova Scotia.
Last september, Hurricane Katia made its way north along the Eastern Seaboard, bringing winds of 140 kilometres per hour, riptides, and "life-threatening surf." As it bore down on the coast of Maine toward Nova Scotia, it swept an Irish tourist to his death.
On September 8, Nico Manos, twenty-eight, rose before dawn and began monitoring the unpredictable winds. Then he packed up his surfboards and hopped into a silver Toyota truck with photographer Scotty Sherin, who shoots local surfers for various publications; and Noah Cohen, twenty-two, a bleached-blond surfer from Tofino, British Columbia. They drove west from Manos's home in tiny Lawrencetown, Nova Scotia — away from the masses of wetsuit-clad surfers gathering on the local beach — in pursuit of the storm's more fearsome waves.
Though Nova Scotia is not a traditional destination, its surf community is growing steadily, drawing such pros as Americans Alek Parker and Dana Quinn. Locals know that the biggest waves come during hurricane season (broadly June to November, although the best waves hit the province from September to November), and surfers typically keep to safe, popular spots like Lawrencetown. But Manos, who took up the sport in his mid-teens, is a "free surfer." Most days during hurricane season, he gets up before 4 a.m. to monitor storm paths and wind patterns on meteorological websites. Some days, he and Sherin clock close to fourteen hours on the road, searching for impressive backdrops and waves that hit the shore just right.
By staking out the best spots — and keeping them secret — free surfers generate more impressive photos and greater bragging rights. Manos goes to awesome lengths to keep his spots unknown. "It's pretty selfish," he acknowledges. This makes his pastime more dangerous: if he were to get injured on the rocks below, there's a chance no one would find him. (He has suffered subluxated shoulders and a broken ankle, but notes that surfing is "probably still safer than football.") His and Sherin's vehicles sometimes break down in remote locations or on private property, and they have had to pay strangers to help them out.
Today we're headed to a reef break tucked behind empty summer homes along the province's south shore. Manos has told a tight group of fellow surfers where he is headed; en route to their destination, he receives calls from lesser-known acquaintances, asking if they can join in. "I once spent two hours trying to figure out how to get out here, because there are so many little roads that go off," he says. "They're going to get lost for sure."
Turning off the main highway, the group weaves between…
FOR THE FULL ARTICLE GO HERE: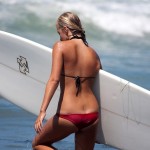 Become A Sponsor!
If you have a product or service that is a good fit for our surf community, we have opportunities for you to sponsor this blog!
Download our media kit now!