VIA YAHOO
USA Surf Team Wins Copper Medal at World Jr. Surfing Championship
By Killeen Gonzalez | Yahoo! Contributor Network – 5 hours ago
On April 22, 2012 the shores of Panama's Playa Venao were awash with talented, teenage surfers proudly representing their respective countries during the Dakine ISA World Junior Surfing Championship's final round. Here's a quick rundown on the results:
Surfing Results – Female Surfers
In Round 6, Heat 1 of the qualifiers, USA PacSun surfer Nikki Viesins surfed against the formidable Aussie Elli-Jean Coffey and Hawaiians Tatiana Weston-Webb and Mahina Maeda. Coffey posted an impressive score of 13.20 and won the heat. Viesins came in 4th. That left Coffey, Weston-Webb, Maeda and Hawaiian Dax McGill surfing against each other in the final round. Despite being the youngest, female surfer in the Dakine ISA World Junior Championship's final round, McGill appeared right at home among the more seasoned surfers. She unleashed a series of moves that brought surf fans to their feet and earned her a winning score of 12.60. Aussie Ellie-Jean Coffey came in 2nd with a score of 9.20.
Surf Results – Male Surfers
In the Boys Under 16 Division, Heat 1, Round 6 of the qualifiers, Frenchmen Diego Mignot and Nomme Mignot matched quivers against Hawaiian Kalani David and Costa Rica's Noe Mar McGonagle. It was a very close finish. Noe Mar McGonagle won the surf heat with an admirable score of 12.84 to Kalani David's score of 12.76. Both men found themselves in the division's final round against Hawaiian Josh Moniz and Japan's Takumi Nakamura. The final proved another surfboard thin finish between David and Nakamura. David ultimately won the surf final with a score of 13.50 to Nakamura's score of 13.40.
The Boys Under 18 Division, Heat 1, Round 6 of the qualifiers was particularly exciting to watch. Japan's Hiroto Arai, Brazilian Deivid Silva, Portugal's Vasco Ribeiro and Aussie Joshua Hay all went point-for-point right to the bitter end. Hay won the surf heat with a score of 12.83 to Silva's score of 12.60. Ribeiro and Arai were not far behind either. Ribeiro finished with a score of 12.57 and Arai's final score was 11.64. The excitement, however, did not end with the sounding of the horn at the conclusion of Round 6.
In the division's final, surfer Joshua Hay took on Vasco Ribeiro, Deivid Silva and Matheus Navarro. The men delivered yet another point-for-point surfing performance that left me cheering. Silva unleashed a beautiful backside reverse, minus the grab, to which Navarro answered with a vicious vertical snap. In the end, Navarro would emerge from the division's final victorious. Navarro's final score was 16.93 and Silva's final score was 16.83. Talk about a nail biting finish!
Surf Team Final Rankings
For the entire length of the Dakine ISA World Junior Surfing Championship in Panama, the USA PacSun Surf Team tried very hard to win the gold for America. As such, I'd like to thank the entire USA PacSun Surf Team for representing our country so well. Watching them made me proud to be an American. Ultimately, it was Hawaii that won the gold medal. Australia took the silver and Brazil won the bronze. America took home the copper medal. Congratulations to all. Surf fans that want to re-watch the action may do so via the event's website. A full listing of the country rankings is available online as well.
Killeen Gonzalez enjoys water sports with her family and has traveled extensively.
FOR THE ORIGINAL POST GO HERE:
http://sports.yahoo.com/news/usa-surf-team-wins-copper-medal-world-jr-145200758–spt.html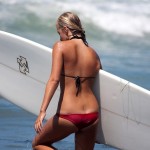 Become A Sponsor!
If you have a product or service that is a good fit for our surf community, we have opportunities for you to sponsor this blog!
Download our media kit now!