VIA KHON 2
Shark expert weighs in on recent string of attacks
Photo Courtesy: Wendy Osher/Maui Now
Published: 1:30 pm
Maui's Waiehu Beach reopened after a shark attack injured a diver on Sunday.
In less than three weeks, there have been at least four shark attacks in
Hawaii
.
Sunday's attacks happened around 8 a.m. One was in the waters off Kauai, the other one off Maui. The Kauai victim is a surfer who was able to swim to shore safely. The Maui victim is a diver who was bitten just above the ankle.
Experts say that case alone is unusual because the victim had not caught anything with his spear to attract the shark.
"From what I understand, the guys had just gotten to the site, swam out to it, and hadn't really speared anything yet. So that does seem a little strange," shark expert John Naughton said.
What's even stranger is the frequency of the attacks. The weekend before, a 51-year-old California woman was bitten on her thigh and had cuts on her hand from fighting off a shark.
On Oct. 18, a stand-up paddler was knocked off his board by a shark which then tried to grab his board. Both of those incidents happened on Maui.
All four victims survived and Naughton says they all did something right — they…
For the full article go here: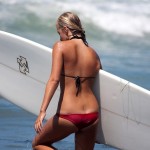 Become A Sponsor!
If you have a product or service that is a good fit for our surf community, we have opportunities for you to sponsor this blog!
Download our media kit now!