VIA – MAUI NOW
'Innersection' Voters Rally For Maui Surfer Albee Layer
By Madeline Ziecker
Surf fans in Maui and other parts of the world anxiously await the announcement of the "Section of the Year" winner for filmmaker Taylor Steele's 2012 Innersection surf movie. Though nothing has yet been officially decided, all eyes are on Maui-bred surfer Albee Layer.
This year's star surfer will be revealed this Wednesday, April 4th via Innersection's 2012 Channel A series on YouTube. The winner will be visited by the Innersection team in their hometown and will receive a $100,000 check to their name, along with the opening slot in the series of surf clips that have been selected for the 2012 Innersection movie.
The first Innersection film was realized in 2010 when Taylor Steele opened up a global forum for surfers to partner with filmmakers and showcase their talent in a free online contest.
Voters across the globe visit the Innersection site and pick their favorite surfer's section. After multiple rounds, whittling the competition down to five surfers, voters cast in their final choice for the surfer who they think deserves to win "Section of the Year."
The voting period for this year's final round closed on March 30th, leaving surfers and their fans in limbo until Wednesday's exciting announcement.
23-year-old Maui surfer Matt Meola holds the title for winning the first Innersection "Section of the Year" in 2011, but this year his close friend Albee Layer, also from Maui, made it as one of the top finalists with voters all over the world pledging their allegiance to his section, including Meola himself…
for the full article and video go here:
http://mauinow.com/2012/04/02/innersection-voters-rally-for-maui-surfer-albee-layer/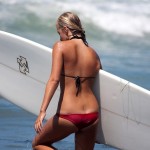 Become A Sponsor!
If you have a product or service that is a good fit for our surf community, we have opportunities for you to sponsor this blog!
Download our media kit now!