VIA – SUN SENTINEL


Irene giving kite surfers ride of their lives
12:28 p.m. EDT, August 25, 2011
For a kite surfer, this time of year is regarded as the off season in south Florida. "No wind whatsoever" said Kate Jonson of Hallandale Beach, "unless there's another storm we might have absolutely no good kite surfing conditions for months."
At the same time Hurricane Irene is lashing through the Bahamas, it's winds are providing local kite surfers with a chance to dust off their gear and head to the beach for a few days of summer fun.
About 30 kite surfers gathered on Hollywood Beach, Wednesday afternoon, where wind speeds were estimated at between 18 to 25 miles per hour by Bryan Benoit of Fort Lauderdale. "It's kinda OK right now but by Thursday morning it will be great," he said.
For the full story and video go here:
http://www.sun-sentinel.com/news/broward/fl-kite-surfers-enjoy-irene-20110825,0,5899527.story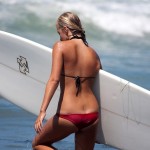 Become A Sponsor!
If you have a product or service that is a good fit for our surf community, we have opportunities for you to sponsor this blog!
Download our media kit now!