VIA – HALF MOON BAY REVIEW
Can't we all just get a long? Yes…yes we can!

Photo from Chris Nomad's iphone…
Surf groups coming together
Posted: Wednesday, August 3, 2011 4:38 pm
By Lily Bixler [ [email protected] ]
Formerly fractured, the local surfing community appears to be forming a united front to approach the San Mateo County Harbor District tonight for a sole permit to hold the famed Mavericks surf contest.
The harbor district board is expected to delay making a decision until the Aug. 17 meeting to give the parties time to develop their applications, or possibly form a new, integrated group.
Jeff Clark's Mavericks Surf Company, LLC and a community surf group called Mavericks Family, LLC sent a joint announcement to the Review Tuesday evening. The statement says the groups have had positive discussions that made it clear they have the same vision and goals for the event.
"We are now working on a unified and comprehensive plan that honors the surfers and Mavericks, addresses safety and operational issues, and benefits the greater community," the statement reads. "Most of all, it unites the surfing community and moves us forward to restore the surf competition at Mavericks as the premier big wave surfing event in the world."
The apparent unity follows a dramatic twist in early June when contest founder Jeff Clark announced he was trying to take back the contest. Mavericks Family LLC – loosely the same group that organized the uneventful contest last year – was the frontrunner to win the permit to use harbor district facilities before the upset at the June 1 district meeting. Long publicly silent on the issue, Clark announced he was better suited to run the contest than the opposing group.
For the full story go here:
http://www.hmbreview.com/surf-groups-coming-together/article_974641a2-be2a-11e0-866e-001cc4c002e0.html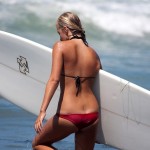 Become A Sponsor!
If you have a product or service that is a good fit for our surf community, we have opportunities for you to sponsor this blog!
Download our media kit now!