Damn he's good…congratulations!
VIA SURFING LIFE AUSTRALIA

Duncan Macfarlane Wins Follow The Light
Thursday, 04 August 2011
One of Surfing Life's favourite photographers, Duncan Macfarlane has just won the Follow the Light Foundation award for surf photography.
Just over five years ago, Larry 'Flame' Moore, the legendary photo editor of Surfing magazine for over three decades, passed away after an epic battle with brain cancer. To remember the amazing work and imagery he fed the surfing community, The Follow The Light Foundation was set up to memorialize him, and to shed new light on emerging surf photographers. Follow The Light aims to separate the roses from the weeds and nurture the best photographer each year by supplying a $5000 grant to the winner and help them step up their career with on-going support.
Duncan Macfarlane FTLF from Duncan Macfarlane on Vimeo.
For more photos and a great interview, go here:
http://surfinglife.com.au/news/industry-news/6287-duncan-macfarlane-wins-follow-the-light-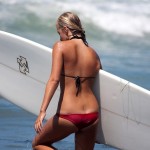 Become A Sponsor!
If you have a product or service that is a good fit for our surf community, we have opportunities for you to sponsor this blog!
Download our media kit now!