Paying the karma forward…then off to exotic lands to surf waves the rest of us only dream of!


Pro-Surfers, Hospital Helping Kids
Robin Kemker
Epoch Times Staff
Santa Monica, Calif.—At Santa Monica State Beach a busload of professional surfers lined up their surfboards in the sand. Some of the best surfers in the country came to support 28 children with cystic fibrosis, aged 3 to 11 years old. Kala Alexander, Kalani Robb, Kelly Slater, Sunny Garcia, and Hans Hagan were there on July 30, helping children with the genetic lung disorder surf and play in the sun.
The children, patients at the Children's Hospital of Los Angeles, headed to the beach, some seeming excited while others seemed scared of the water and waves. Professional (pro) surfers arrived with event sponsors and a contingent of local surfers.
James and Charles Dunlop of Ambry Genetics started the Mauli Ola Foundation in 2007 to enlist pro surfers to promote education and awareness of genetic diseases and increase research for genetic disorders. They also wanted to introduce surfing as a natural treatment option for cystic fibrosis (CF) patients. The Mauli Ola Foundation has taught hundreds of CF patients to surf through free events with hospitals, and has visited hundreds of patients around the United States. It was the 4th annual Surf Experience Day in Santa Monica.
Dr. Danieli Salinas, pediatric pulmonologist at Children's Hospital of Los Angeles was also surfing with the children at the event. "Children affected by cystic fibrosis have a decline in lung function over time, which limits their ability to exercise," she said. "Exposing the children to the ocean air and water helps to break up some of the blockage in the lungs. In addition, exposure to sunlight helps them to assimilate natural vitamin D, helping improve their metabolism, mental activity, and quality of life."
For the full story go here:
http://www.theepochtimes.com/n2/united-states/pro-surfers-hospital-helping-kids-59922.html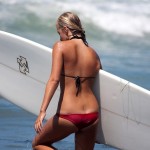 Become A Sponsor!
If you have a product or service that is a good fit for our surf community, we have opportunities for you to sponsor this blog!
Download our media kit now!