VIA – ECR.CO.ZA


Surfer killed: arrest imminent
03 August 2011 – 13:06
Author: Judith Subban
KwaZulu-Natal police say they expect to make an arrest by the end of tomorrow in connection with the death of a 20-year-old surfer at Durban North at the weekend.
Police spokesperson Thulani Zwane says the suspect, who is alleged to have been behind the wheel of a car that slammed into Michael Livesey, is due to be charged with culpable homicide.
Livesey was hit as he skateboarded on Chelsea Road, making his way home from a friend's house on Saturday night.
He died on scene.
Family spokesperson, Dean Macpherson, says a wake for Michael will be held on Friday at Northwood Boys High and a group of surfers will paddle out from uShaka Beach on Saturday to honour him.
Macpherson says it has been a difficult time for the family.
For the full story go here:
http://www.ecr.co.za/kagiso/content/en/east-coast-radio/east-coast-radio-mobile-news?oid=1312360&sn=Mobile+news+detail&pid=171901
For the first report, go here:
http://surftweeters.com/family-devastated-by-surfers-death-south-africa/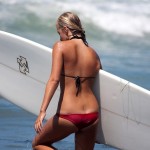 Become A Sponsor!
If you have a product or service that is a good fit for our surf community, we have opportunities for you to sponsor this blog!
Download our media kit now!