VIA – BETTOR
Kelly Slater to take decision on 2012 ASP World Title campaign after Quiksilver Pro – Surfing News
Posted By:
Jason McCarthy
Category:
Surfing News
Kelly Slater to take decision on 2012 ASP World Title campaign after Quiksilver Pro – Surfing News
America's legendary surfer Kelly Slater is looking to settle for nothing less than top honours at Quiksilver Pro Gold Coast that gets underway in Queensland, Australia, from February 25.
The upcoming event is the first of the 11 stops on the 2012 Association of Surfing Professionals (ASP) World Tour and will attract the best surfers from around the globe to begin their campaign for the biggest honour in surfing, ASP World Title.
Even though the 40-year-old Slater already has 11 ASP World Titles to his name, winning the latest title in 2011, it is difficult to say if the iconic Florida-based surfer has had enough.
While the surfing fans around the world are still guessing whether they would get to see Slater put in a full year at the elite tour, even the man in question himself is not sure about what he intends to do.
Every time Slater felt confused about competing in the ASP World Tour, he left the decision to his performance at the opening event of the World Title series, Quiksilver Pro. Last year, everyone was under the impression that they may not see the world's greatest surfer pursue his 11th title, but a remarkable performance at Snapper Rocks convinced Slater to continue his campaign and eventually walk away with the coveted honours at the end of the season.
"There have been years when this approach has been a little frustrating but it's also sort of a wildcard way of deciding," Slater conceded. "I've had good success on the Goldy and this year should be fun again. I can't wait to be there. I'm undecided as to whether I'll apply full time [to the 2012 ASP World Title Series]. That's probably no secret. I'll go by feel and whatever feels right internally, I'll stick with that…"
For the full article go here:
http://blogs.bettor.com/Kelly-Slater-to-take-decision-on-2012-ASP-World-Title-campaign-after-Quiksilver-Pro-Surfing-News-a130866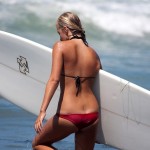 Become A Sponsor!
If you have a product or service that is a good fit for our surf community, we have opportunities for you to sponsor this blog!
Download our media kit now!