VIA – ABC AUSTRALIA

Local surfboard shaper Stuart Darcy with pro surfer Layne Beachley (used with permission – Bleach*Festival)
Surfboards: quality vs quantity

22 February, 2012 3:24PM AEST
By Candice Marshall
Surfboard manufacturers will meet on the Gold Coast this week to debate the factors affecting the industry.
It is estimated that three million Australians surf, yet our local surfboard manufacture industry is suffering.
The reasons for this will be discussed at a forum this week, as part of the Bleach*Festival.
Michelle Blauw, President of the Australian Surf Craft Industry, has organised the forum.
Michelle attributes the industry's problems to three factors: the current global economy, the strength of the Australian dollar, and the increasing volume of cheaper Asian imports.
Local shapers are even undercutting each other in order to stay ahead.
"These are things we want to discuss at this forum – it is so important that we all get together in one room and have representatives from all areas of the surf crafting industry, which is the importers of high-end boards, importers of low-end boards, the Australian made people, the companies that dabble in both, and we need to work together," Michelle says.
Among these representatives will be local board shaper Stuart Darcy and manufacturer Nev Hyman.
Nev is based on the Gold Coast, but has moved his production overseas.
After 40 years of making surfboards he says "It's been a very interesting journey because I've basically made surfboards from every different perspective- whether it be a few surfboards a week in a backyard scenario, to a small operation, to having multiple large factories in Australia."
"It's a long, slow, hard lesson to learn but there is very limited margin in surfboards, and the problem with manufacturing surfboards is that it is one of the last artisan jobs.
"The bottom line is we're craftsmen but the problem is that the surfboard industry is a cottage industry with global appeal."
Nev says that between 1998 and 2000 he became very jaded by the frustrations he faced in the industry.
"I was making 150 boards a week, and making no money. I had a brand that was globally recognised and had professional surfers riding boards, salaries, all those scenarios, but at the end of the day – as an example 10 per cent of my turnover was to accommodate professional surfers, there are very few industries that allow that level of marketing out of the budget – and that is just typical of any of the larger manufacturers to maintain their global prescience – so the end of the story was that there was no way in making the surfboards the way we were doing it and I had to reinvent myself. "
Local shaper Stuart Darcy was forced to close his Currumbin business recently, and is also thinking about moving his trade overseas.
Stuart has been shaping for 25 years and moved to the Gold Coast 10 years ago, aiming to expand his business.
"We recently closed because we lost all our export overseas, because of the Australian dollar mainly, and we're finding it quite hard to manufacture on the Gold Coast and we're finding it hard to find quality staff to do the work because it's all hand-made products," Stuart says.
"We are now at the stage where we're thinking about actually moving overseas to work, it's come to that."
Both Nev and Stuart agree that while professional and serious surfers will most likely always chose better hand-made boards, they need the larger customer base to do the same.
Nev says the difference in the quality is proven time and time again.
"We differentiate by performance, by the way the board performs and lasts. People don't see what we do as high-end, they think 'a board's just a surfboard – pointy nose and square tail' but being in the industry for a long time we know that you have to pull the glass to get spring into the board, you've got to get a light blank with a good stringer, and get all your product from quality manufacturers," he says.
"We get it back in our face all the time because the people who've bought them, they're saying 'they're falling apart' and we're saying 'well you get what you pay for' but we haven't been able to get that across to the customer."
Nev adds that customers are not willing to appreciate the skill behind surfboard shaping, and pay accordingly.
"We have busted our guts, we have travelled the world, we have put as much energy into becoming well-known surfboard designers and shapers as a lawyer has done, if not more in some cases, so we deserve for the prices of our surfboards to be more expensive.
"But we've created our own problem, because it's always been a cottage industry, it's always fought down the prices of boards within its own ranks – now we have to undercut to battle the Asian imports. So it's a vicious circle that I don't have an answer to…"
For the full article go here:
http://www.abc.net.au/local/stories/2012/02/22/3437033.htm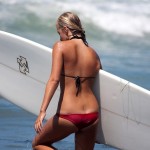 Become A Sponsor!
If you have a product or service that is a good fit for our surf community, we have opportunities for you to sponsor this blog!
Download our media kit now!