VIA – BETTOR


Kelly Slater uncertain about pursuing ASP World Title number 12

Posted By:
Jason McCarthy
Category:
Surfing News
Kelly Slater uncertain about pursuing ASP World Title number 12
America's legendary Kelly Slater has admitted that he is not yet certain whether he would be returning to the Association of Surfing Professionals (ASP) World Tour next year to pursue his 12th ASP World Title.
The 39-year-old Florida-based surfer, who recently clinched his 11th ASP World Title at Rip Curl Pro Search in San Francisco, America, feels that it is really difficult for him to say anything about his participation in the next year's championship as it still too early to say anything with surity just yet.
In an exclusive interview to ESPN, the leading sports news network, Slater said, "I don't know. I didn't think I would be in this position at this point. I was going to bow out this year and pull back from competition full time. But then I started doing really well and the next thing you know, I won the title. That has happened for the last three or four titles. I get on a roll and can't pass up the chance to win another title."
Slater added that he had been competing for so long that he is finding it extremely hard to throwing in the towel. He is on a look-out for an exit strategy and would definitely be assisted by a therapy session to help him let go of what has been his passion for so long.
Prior to the beginning of the 2011 edition of the ASP World Tour, there were rumours circulating around the surfing community about Slater possibly deciding against embarking on a journey for his 11th World Title. With a record number of 10 titles to his name already, the American had already asserted himself as the most dominant athlete in surfing. However, he revealed his plan to pursue yet another title a week before the first event of the ASP World Tour was to start in Australia.
Slater took a convincing victory in the first elite event of the season, Quiksilver Pro, at Gold Coast in Australia. After getting an ideal start, there was no turning back for the iconic surfer and he decided to see himself through to the end. Despite a few hiccups and controversies during the first half of the season, Slater took control of the Tour in the second half and became unstoppable. Australia 21-year-old Wright offered commendable challenge, but it just did not prove enough to put the brakes on the American surfer.
The recently concluded Rip Curl Pro Search San Francisco was the event where the fate of the 2011 ASP World Tour got decided. A little point calculation error by the ASP caused many to believe that Slate needed just a couple of heat wins to seal the deal. The Floridian won his Round 1 and Round 3 heats to start celebrating his 11th World Title. However, Slater came across a comment by some Mark on a website that stated that the fate of the season was not yet sealed and that the legendary American surfer needed yet another…
For the full article go here:
http://blogs.bettor.com/Kelly-Slater-uncertain-about-pursuing-ASP-World-Title-number-12-a112711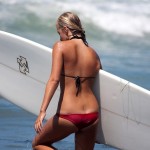 Become A Sponsor!
If you have a product or service that is a good fit for our surf community, we have opportunities for you to sponsor this blog!
Download our media kit now!