VIA – TORONTO SUN
DiCaprio urges Californians to back shark bill
WENN.com
First posted: Saturday, September 03, 2011 09:37 AM EDT | Updated: Saturday, September 03, 2011 09:42 AM EDT
Leonardo DiCaprio is pleading with fans in California to back a bill banning the sale of shark fins in the state.
The Hollywood star, a passionate animal rights campaigner, previously wrote a letter to officials in support of Assembly Bill 376, which would make it illegal to possess, sell or trade sought-after fins.
Now DiCaprio is ramping up his efforts as authorities prepare to vote on the legislation – he has asked Californians to place calls to their state senators and ask them to protect sharks.
In a post on his Twitter.com page, he writes, "This is our last shot. Please help."
The actor has also called for fans to sign a petition urging world leaders to do more for shark conservation.
For the full story go here:
http://www.torontosun.com/2011/09/03/dicaprio-urges-californians-to-back-shark-bill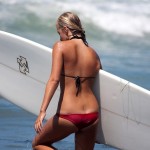 Become A Sponsor!
If you have a product or service that is a good fit for our surf community, we have opportunities for you to sponsor this blog!
Download our media kit now!