VIA – TV 2
Dette var bildet den lokale amatørfotografen tok av surferne utenfor San Diego i California. Legg merke til bølgetoppen til høyre i bildet
Her surfer de med den livsfarlige morderhaien rett under seg
Spektakulære bilder skremmer surfere i San Diego.
Del med andre:
Den siste uken har strendene utenfor San Diego i California vært stengt etter flere observasjoner av hai. Men da man trodde faren var over, skulle det vise seg å bli langt mer farefullt enn noen kunne ane:
Mens surferne ante fred og ingen fare på toppen av en av bølgene like ved land, viste det seg på et bilde tatt av en amatørfotograf at kjeften på en svær hvithai befant seg få meter fra dem.
MER FRA DYRERIKET: Vanskjøttet ponni fikk nytt liv med protese

Bildene tv2.no her kan vise, er tatt på Swamis Beach. Ifølge CBS 8 San Diego visste ikke ikke fotografen hva han hadde tatt bilde av før han kom seg hjem. En lokal haiekspert sier til TV-kanalen at det utvilsomt er den tre meter lange hvithaien – «the Great White». Denne spiser helst sel, men har flere ganger tatt feil av dem og mennesker i våtdrakt – også med fatale konsekvenser.
Del på facebook162
For the full story go here:
http://www.tv2.no/nyheter/utenriks/her-surfer-de-med-den-livsfarlige-morderhaien-rett-under-seg-3574814.html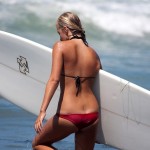 Become A Sponsor!
If you have a product or service that is a good fit for our surf community, we have opportunities for you to sponsor this blog!
Download our media kit now!