VIA – SD NEWS
Let loose for a good cause at Windansea Surf Club's fundraising event
by Mariko Lamb

The longstanding Windansea Surf Club and newly established Duck Dive in Pacific Beach are teaming up for a fundraising event spattered with art, music and entertainment on April 7, starting at 7 p.m.
The lively evening will include a raffle, food and drink specials, live music by "Saline Solutions," and a DJ set by "Mikey Beats."
Artwork by two-time Women's Longboard Champion Jen Smith, surfboard shaper Jeff McCallum, daughter of famed surfboard shaper Rusty Preisendorfer, Avalon Preisendorfer, and photographer Peter King will be showcasing a wide range of surf-themed works spanning from surfboards to stunning beach shots.
To complete the evening event, the new Pacific Beach venue falls right in line with the Windansea Surf Club's history.
"This venue is a surf themed bar and grill and was actually where Gordon and Smith shaped their surfboards in 1961 to 1963," said Samantha Roper, Windansea Surf Club representative. "Next door was Select Surf Shop, and many original Windansea members grew up around this surf shop."
The fundraiser will raise money through the Windansea Five-0 Fund for a museum exhibit in 2013 to pay tribute to the club's 50 years of surf and service in the San Diego community. The upcoming bicentennial luau celebration will showcase an exhibit of historic memorabilia from the 1963 International Surfing Championship's historic victory.
"I hope to maintain its reputation as being the best surf club in the world. I also hope to maintain the importance of community service that has been so evident all of the years I have been involved," Roper said of the famed Windansea Surf Club and its community service efforts.
Many of the club's member surfers have gone…
For all the info go here:

http://sdnews.com/view/full_story/18136339/article-Let-loose-for-a-good-cause-at-Windansea-Surf-Club%E2%80%99s-fundraising-event?instance=sdnews_ane_page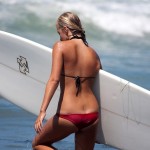 Become A Sponsor!
If you have a product or service that is a good fit for our surf community, we have opportunities for you to sponsor this blog!
Download our media kit now!