VIA – ESPN

Water to Waste foam recycling bins are in surf shops from San Diego to San Francisco.
Turning recycled foam into surfboards

By Jeff DiNunzio
ESPN Action Sports
Archive
Surfboard construction has undergone a renaissance in the last decade, with shapers experimenting with a myriad of core materials, from closed-cell foams to repurposed wood. Sustainable Surf, a California-based environmental NGO, hopes its newest campaign will instigate the next shift in the steady evolution of board composition and design.
It is called Waste to Waves (WTW), and it's simple enough: convert recycled packaging Styrofoam into raw surfboard blanks. WTW's partners at Marko Foam have long produced environmentally friendly blanks using recycled foams and woods.
"Our big idea was to figure out how to dramatically expand on that foundation, and to open it to the general public," explains Sustainable Surf's Michael Stewart. To do this, their focus turned to acquiring large quantities of post-consumer expanded polystyrene (EPS) found in TV, computer, and other packaging.
Sustainable Surf started providing recycling bins at surf shops from San Francisco to San Diego that already receive shipments from Marko Foam. Delivery trucks return to the factory filled with collected EPS, thus lowering transportation costs and emissions and boosting logistics efficiency. The point, says Stewart, is to make it easy for surfers to participate.
WTW has collected some 4,500 pounds of recycled foam since the program's inception in November, and has been contacted by businesses, universities, and local governments voicing interest in aligning their recycling efforts.
Recycled foam is processed in one of two ways. The foam can be ground into fine particles and blended with virgin EPS as it expands inside of a compression mold to form a blank. Or the material can be condensed into solid blocks and shipped to raw material suppliers where it is remanufactured into recycled polystyrene beads, which are then incorporated into the normal foam blank production process.
Sustainable Surf claims that a fully recycled board has half the carbon footprint of virgin EPS. Revered shaper Timmy Paterson has sculpted several recycled foam blanks. Epoxy resins are typically petroleum-based, and often leave the largest carbon footprint in surfboard production, so Paterson laminated his with a bio-resin containing pine oil from pulp mills and non-food grade vegetable oils…
For the full article go here:
http://espn.go.com/action/surfing/story/_/id/7779835/waste-waves-turns-styrofoam-recycled-foam-surfboard-blanks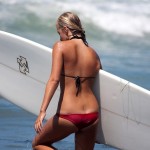 Become A Sponsor!
If you have a product or service that is a good fit for our surf community, we have opportunities for you to sponsor this blog!
Download our media kit now!