VIA – ADLELAIDENOW
Photo: Pro surfer Teale Vanner in action at Vivonne Bay. Picture: Andrew Shield Source: Sunday Mail (SA)
Kangaroo surf festival eco-fear wipeout
Brittany Vonow
From: Sunday Mail (SA)
September 03, 2011 10:00PM
PRESSURE from KI residents over a surf and music festival has forced organisers to hold a community meeting.
Kangaroo Island Council has been flooded with more than 40 complaints from residents fearing the Kangaroo Island Surf Pro, due to be held in November, will threaten the island's ecosystem.
The wave of complaints has prompted the council to host a public meeting and advise organisers, Surfing SA, they may not support the event if all issues are not resolved.
Kangaroo Island mayor Jayne Bates said the council would run the public meeting to give Surfing SA officials an opportunity to address locals' concerns. It would also give the community a chance to have their questions answered directly, she said.
"The meeting will give us the opportunity to get everyone in the same room," she said. "We're hoping for a two-way conversation."
The tiny community of Vivonne Bay has split since Surfing SA's May announcement of the surf music festival, which will include a visit by surfing great Mark Occhilupo and bands including Eskimo Joe and The Beautiful Girls.
Only about 40 people live in the town, but conflict around the festival was dividing the community, local resident Liluella Walsh said.
"With the announcement of the surf and music event this relaxed culture within the community has changed and grown divisive, petty and stressed," she said. But Surfing SA CEO Steve Reddy said he had been contacted by locals "putting up their hands to be involved".
For the full story go here:
http://www.adelaidenow.com.au/ki-surf-festival-eco-fear-wipeout/story-e6frea6u-1226128857709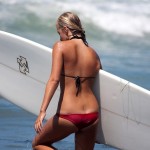 Become A Sponsor!
If you have a product or service that is a good fit for our surf community, we have opportunities for you to sponsor this blog!
Download our media kit now!