VIA – HISPANICALLY SPEAKING NEWS
Male Model and Surfer Arrested in Dominican Republic for Selling 'Cigar-Sized' Joints
Published at 3:35 pm, November 1, 2011
Dominican Republic authorities are reporting that Richard Michael Spelman, a California surf instructor and male model can be detained for a year without bail, while prosecutors prepare a drug trafficking case against him.
Dominican police arrested 31 year-old Spelman at his Cabarete, Puerto Plata hotel, after finding over 4 and a half pounds of transgenic marijuana, rolled into cigar-sized joints inside a backpack in his room.
Authorities estimate Spelman would sell each 'cigar' for well over a hundred dollars.
No charges have been filed in the case, but the Dominican legal system allows for preventive detention while a case is under investigation. Judge José Alejandro Vargas ruled on Monday that Spelman can be detained for up to twelve months at La Victoria penitentiary, built for 1,200 inmates, but currently holding some 5,000.
If Spelman is found guilty of drug trafficking, he faces up to 30 years in prison.
During yesterday's court appearance, Spelman said the marijuana found on him, was for his personal use. The defense intends to argue that Spelman is a medical marijuana user in California, where the drug is legal for medicinal purposes and was unaware the genetically altered herb was illegal in the island.
For the full story go here:
http://www.hispanicallyspeakingnews.com/notitas-de-noticias/details/american-male-model-rick-spelman-arrested-in-dominican-republic/11376/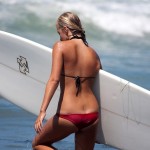 Become A Sponsor!
If you have a product or service that is a good fit for our surf community, we have opportunities for you to sponsor this blog!
Download our media kit now!