VIA – ESPN GO

Malloy film opposes B.C. pipeline
Filmmaker uses surfing as part of effort to halt Northern Gateway project in B.C.
By Jeff DiNunzio
ESPN.com
Updated: February 21, 2012, 6:19 PM ET

Jeremy KoreskiDan Malloy and Trevor Gordon jump off the Achiever to surf the chilly waves off the B.C. coast while Gem Salsberg films.
A year or so ago, when the British Columbia-based environmental group Raincoast Conservation Foundation (RCF) decided to use surfing to convey its opposition to a pipeline proposal in Canada, one name immediately came to mind: Chris Malloy. The result is a short film titled "Groundswell," due out this fall.
Malloy's surf movie production experience is lengthy, and his 2010 feature "180° South" documented the conflict in Chilean Patagonia over the building of hydroelectric dams. That film required sailing from Southern California to the bottom of South America.
"At the very essence, we consider surfers as close to marine mammals as possible among humans," said surfer and RCF science director Dr. Chris Darimont. "When we pitched it, [Malloy] was very interested." What RCF pitched was a tour of the craggy British Columbia coastline aboard the Achiever, its 68-foot research vessel, to absorb a stretch of wilderness that would be affected by the building of the Northern Gateway pipeline.
"My brother Keith came home with stories about the rawness of the coastline and the unique people that live there," Malloy said of B.C. "I had recently been through the interior working on a film about the First Nations salmon harvest and fell in love with the place. As a surfer, I'd seen maps and could not stop dreaming about exploring for unridden waves."
For his part, Malloy doesn't surf in the film; he only directs. Younger brother Dan, and friends and fellow pros Trevor Gordon and Pete Devries play the on-screen talent. Malloy and RCF intend to premiere the 20-minute short in October. Where "Groundswell" will debut remains uncertain.
The project is a chance for Malloy to offer a peek into a region and an issue unfamiliar to many. "Surfing is helping to perk interest with a group of people who otherwise might not have an opinion on the topic," he explained. "Not everyone can experience the Great Bear Rainforest in person, but [seeing] it on film it might help them understand that there is a massive amount at stake there."
Enbridge, Canada's chief natural gas provider and operator of the world's longest oil and liquid transportation system, wants to erect a twin pipeline system to carry oil — extracted from the tar sands in Alberta — from near Edmonton to …
For the full article go here:

http://espn.go.com/action/surfing/story/_/id/7575833/chris-malloy-builds-groundswell-fight-canadian-pipeline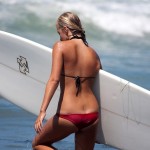 Become A Sponsor!
If you have a product or service that is a good fit for our surf community, we have opportunities for you to sponsor this blog!
Download our media kit now!