Sharks just aint enough…what a way to come a cropper!
VIA – DEL MAR VA NOW
Surfer gored by bull in Costa Rica
Fenwick man expected to make full recovery after attack
Feb. 21, 2012
Brent Cropper was gored twice by a bull during a rodeo in Costa Rica on Jan. 28. He was released from the hospital six days later with stitches across his neck and from his chest to under his right arm. / PHOTO COURTESY: ROSS CROPPER
Written by
Ethan Rothstein
Staff Writer
FENWICK ISLAND –A Fenwick surfer vacationing in Costa Rica was gored by a bull in the neck and chest and rushed to the hospital, where it was discovered the bull's horns missed his jugular by mere inches.
Brent Cropper, 29, was in the hospital for six days. After receiving stitches across his neck and from his chest to under his right arm, he's expected to make a full recovery within the next month, according to his father, Ross. He'll even be able to surf in Costa Rica before he comes back from his annual three-month vacation in March.
"He got a tattoo of a bull right after he got out of the hospital," said Cropper's close friend, Brian Smith.
Cropper's newest tattoo is evidence of his brush with death, but to those who know him, hearing he was in the middle of a rodeo when a huge bull burst through the gates wasn't much of a surprise.
In fact, before the incident, which occurred on Jan. 28, Cropper was already known as "El Toro" in Costa Rica, Ross Cropper said. To some of his surfing buddies, Smith said, he was known as "Bull on the Beach."
Brent Cropper is known to have a wild side, but this incident likely scared him away from rodeos.
"It didn't surprise me that he would be doing daredevil things like that," Ross Cropper said. "He told me looking the bull in the eyes put the fear of God in him."
On the day before his wedding, Brent Cropper was dared by his young nephew to eat a frog, Ross Cropper said. He picked it up and swallowed it whole. On another occasion, he tried to goad Smith into betting him $25 to eat a clam shell. When Smith declined, he said Cropper did it anyway.
"He'll never do a rodeo again, but he's definitely not going to slow down," Smith said. "The boy's awesome, he's a beast. He's great at what he does, he's an awesome guitar player, a great surfer, and he's a great friend."
Video of Cropper's run-in with the ball is on YouTube, and Ross Cropper had a chance to see it after he was told his son's life wasn't in danger and he would recover fully.
"The video made me want to puke," he said. "It was horrifying. He's lucky to be alive, that's how I feel, and that's how most people feel who have seen the video."
Brent Cropper is unidentifiable in a large crowd of people in the ring when the bull is bucking its rider off. When the matadors aren't able to corral the giant animal, he charges for the crowd, which disperses. The bull seems to hone in on Brent Cropper, and…
For the whole tale go here:
http://www.delmarvanow.com/article/20120221/DW01/202210302/Surfer-gored-by-bull-Costa-Rica?odyssey=mod|newswell|text|Delaware%20Wave|s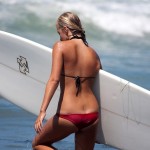 Become A Sponsor!
If you have a product or service that is a good fit for our surf community, we have opportunities for you to sponsor this blog!
Download our media kit now!