SUPing obviously has it's share of enthusiasts and critics, the majority being the former rather then the later. One of the main issues some have with the explosion of standup paddleboarding, is simply that the majority of newbies into the sport have no concept of the real dangers that can occur, whether paddling into a crowded lineup on a 14'er or, as in this case, paddling in ice cold water completely unprepared (this happens all the time as people take to rivers and lakes in the Northern hemisphere). Most surfers start slowly and learn in small gradients, learning about tides, types of waves, building up their lungs, muscle memory, etc. It's sad to see situations like this arise but hopefully others will learn from tragedies like these and take the necessary precautions and learning curves…
VIA – THE SEATTLE TIMES
Kirkland man dies paddleboarding
Posted by Jeff Hodson
UPDATE: The man died late Monday afternoon, according to a spokeswoman for Evergreen Hospital. He was identified as Tyrone Fabroa.
Police said one of the men who tried to save the 35-year-old was Pete Robertson, a trained lifeguard. Robertson and another resident of the area used goggles and other snorkeling gear and went in after him.
Fabroa was 15 to 25 feet from the nearest dock and was probably under water from two to five minutes, police said. One of the rescuers told police the water temperature was about 68 degrees.
Fabroa's brother was also at the shore.
EARLIER POST: A 35-year-old Kirkland man was in critical condition at Evergreen Hospital Monday after he fell into the water while paddleboarding on Lake Washington.
The incident occurred at 11:25 a.m. just south of the David E. Brink Park, 555 Lake Street South. Two Kirkland residents rescued the man after they noticed he was struggling and disappeared under the water, said Kirkland Police Det. Allan O'Neill.
For the full story go here:
http://seattletimes.nwsource.com/html/theblotter/2015794340_kirkland_man_critically_injure.html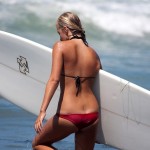 Become A Sponsor!
If you have a product or service that is a good fit for our surf community, we have opportunities for you to sponsor this blog!
Download our media kit now!