70 years old and bodyboarding? Awesome…I hope I am still this healthy at their age!
VIA – NORTH COUNTY TIMES – CARLSBAD
CARLSBAD: Bodyboarding makes splash with women's group
BY Brandi Perez [email protected] | Posted: Saturday, August 6, 2011 5:30 am
They're the bodyboarding babes.
At Carlsbad State Beach last week, nine women —- all age 50 and older —- grabbed brightly colored bodyboards and raced into 60-degree water.
They screeched when they first touched the chilly surf, but in they went. Not a one wore a wetsuit.
A few minutes later, they were giggling like children as they rode waves back to shore.
"I think Boogie Boarding keeps you young," said Carlsbad resident Sherrie Washburn. "It's a good exercise. It engages all your muscles. You're fighting the current and you're reading the waves, you're moving all the time."
Washburn, 71, and LaVonne Reiter, 76, —- also of Carlsbad —- launched the group in the summer of 2003.
They call themselves the Board Certified Babes and consist of 15 members ranging from 50 to 80 years old.
The club meets Tuesdays and Thursdays from July to October at Carlsbad State Beach for a few hours of chasing waves.
"It's very freeing and a form of meditation, very peaceful and exercising at the same time," Reiter said. "It keeps us limber and young."
She and Washburn were sitting on the beach one day when she asked her friend whether she'd like to go boogie boarding.
For the full story go here:
http://www.nctimes.com/news/local/carlsbad/article_3446433f-48bc-5cfc-8fce-8a16a77d0317.html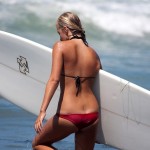 Become A Sponsor!
If you have a product or service that is a good fit for our surf community, we have opportunities for you to sponsor this blog!
Download our media kit now!