VIA – THE COAST NEWS
By Lillian Cox
SOLANA BEACH — Surfer Bruce McFarland has achieved much success as the founder of American Wave Machines where he has developed wave technology for applications in both research and recreation. Moreover, he's followed in the family business.
Great uncle Charlie Wright promoted surfing in San Diego in the beginning of the last century after learning the sport from friend Duke Kahanamoku, the "Father of Modern Surfing." Wright, a San Diego lifeguard, was able to replicate the design of Kahanamoku's surfboard for popular use.
Today, McFarland recalls recognizing the genius of Uncle Sonny as a 10-year-old.
"Uncle Sonny made an early form of a diving hookah (air supply device used in free diving) when he lived in the Philippines," he said. "He had a pool that was green, and said my brother and I could swim in it if we used his hooka to dive and scrub the pool with a brush. We had never seen a diving apparatus. We were stoked."
Surfer and engineer Bruce McFarland replicates the experience of real ocean surfing through technology available by his Solana Beach-based company, American Wave Machines. Courtesy photo
Growing up in Manhattan Beach, McFarland began devising his own gear including skim boards, skate decks, surfboards and bikes using parts. After high school, he earned a bachelor's degree in mechanical engineering from UC Santa Barbara as well as a master's specializing in fluid dynamics and experimental methods. He did post-graduate work in structural dynamics at UCLA.
His first job after graduation was as a staff engineer with TRW Space and Technology in Redondo Beach. A job offer with Structural Dynamics Research Corp. in Del Mar brought McFarland and his family to Solana Beach in 1989.
For a while the family lived in a VW van while he kept his options open, hoping to find a career fit that would lead to developing surf machines. That happened in 1991 when he met an inventor of sheet flow technology who needed help developing a ride. Recognizing a ground floor opportunity, McFarland co-founded Wave Loch Tool & Die in La Jolla.
Subsequently, McFarland was inspired to start his own company after watching a video of beachgoers at the Waimea Rivermouth riding surfboards on a standing wave.
"I knew that it could be recreated in a pumped water system," he said. "A guy living in Hawaii already had a related patent. I licensed it."
In 1999, McFarland founded American Wave Machines, or AMW, in Solana Beach.
"The rest has been a nonstop pursuit of making waves," he said. "My wife, Marie, the kids and the extended family have supported it all the way."
AWM began doing research and development of standing wave apparatuses and was issued five patents. In the fall of 2004, on ABC's "Don Polec's World," McFarland introduced SurfStream, the first hydrofoil standing wave machine. Manufacturing and sales began in 2006. Products started shipping in 2008.
Today, McFarland touts that SurfStream delivers the ultimate surfing experience — "the long ride."
In January, pro surfers Cheyne Magnusson and Anthony Walsh, representing Body Glove, provided a demonstration at the Ola Movistar Surf Arena in Peru.
Body Glove CEO Robbie Meistrell is on the AWM board of directors.
"Body Glove looked far and wide for the most authentic wave technology," Meistrell said. "Bruce and his company share the same vision as Body Glove…
For the full article go here:
http://thecoastnews.com/2012/04/mans-love-of-surf-leads-to-wave-machine-technology/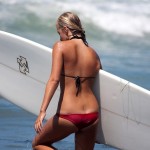 Become A Sponsor!
If you have a product or service that is a good fit for our surf community, we have opportunities for you to sponsor this blog!
Download our media kit now!