VIA – INSIDEBAYAREA
Shark tagged off Santa Cruz County in the 1990s caught in Sea of Cortez
Posted:   04/26/2012 06:50:28 AM PDT
Updated:   04/26/2012 06:51:29 AM PDT
SANTA CRUZ — A white shark that researchers tagged near Año Nuevo Island in the late 1990s was caught in the Sea of Cortez last week.
Two fishermen in the Mexican state of Sonora said they caught the adult female shark after they cast a net from a panga, or small motorboat.
In an online video posted by the Mexican newspaper El Imparcial, one of the fisherman said they caught the shark by accident. At first they were terrified because they thought it was alive, then realized it was dead.
It was estimated at 20 feet long and 4,000 pounds – although it was not weighed on the beach, said Sean Van Sommeran, executive director of the Santa Cruz-based Pelagic Shark Research Foundation.
"We threw out some nets and the shark was caught in the net," fisherman Baltazar Berrospe said in Spanish in the video. "It was something we wouldn't have expected." They fish for sole, rays and other fish besides sharks.
White sharks are protected in Mexico, but accidental catches are forgiven, shark researchers said.
After the massive shark was brought ashore, the man's wife spotted the algae-covered white tag near the base of the female shark's dorsal fin. She saw Van Sommeran's contact information on the tag, then called and emailed him.
"Oftentimes people don't even see them," Van Sommeran said of the tags.
Or, he said, anglers who catch white sharks don't contact researchers because they think they might get in trouble.
"It's become increasingly hard to get returns for the tags," said Van Sommmeran.
The fisherman's wife asked him about a possible reward. In the past, anglers in the area have returned transmitter tags to researchers for reward money.
However, this tag contained no transmitter nor reward. It was simply for identification, similar to tags that bird researchers attach to bird legs.
After a few brief communications with the woman, Van Sommeran is still trying to get more pictures and information about the shark.
In terms of research, the white shark's presence in the Sea of Cortez is of some value.
Van Sommeran said it is more common for juvenile white sharks to be in that area rather than adult white sharks such as the one that was caught.
Gravid, or pregnant, white sharks sometimes divert from their migratory pattern and swim to the Sea of Cortez, he said. It's possible that the shark gave birth to a "pup," or baby shark, shortly before it was caught.
Researchers said the bulk of white sharks swirl around Año Nuevo Island in Santa Cruz County from October to January.
In February and March, they typically move offshore to places like Mexico and in the open ocean toward Hawaii. However, they don't go in giant packs, according to Van Sommeran.
They generally group themselves by length and age. The white sharks that are 10 feet long take separate paths than those 20 feet or longer.
In layman's terms, Van Sommeran said, "They say, 'Hey spread out, I'm trying to hunt here.'" The white shark…
For the full article go here:
http://www.insidebayarea.com/news/ci_20481598/shark-tagged-off-santa-cruz-county-1990s-caught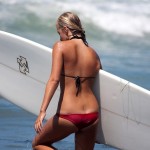 Become A Sponsor!
If you have a product or service that is a good fit for our surf community, we have opportunities for you to sponsor this blog!
Download our media kit now!